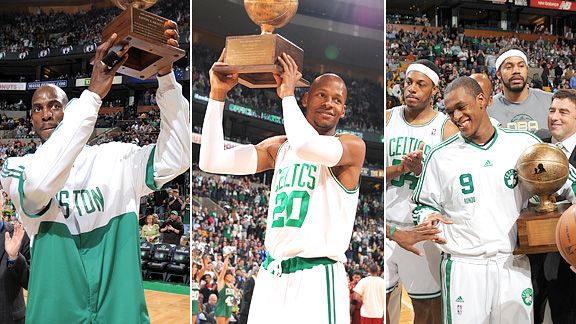 Getty Images
Past Auerbach Awards honorees include Kevin Garnett, Ray Allen, and Rajon Rondo.The Boston Celtics will hand out their annual Red Auerbach Award before Friday's game against the Washington Wizards.
The honor, presented annually since the 2005-06 season, is bestowed upon the Celtics player who best exemplifies the spirit of what it means to be a Celtic through performance on the court and off. The award is named in honor of legendary coach, general manager, and president of the Celtics, the late Arnold "Red" Auerbach.
With that in mind, here's a recap of the history of the award and a brief handicapping of the field for this year's honor:
The past winners: Paul Pierce (2006), Al Jefferson (2007), Kevin Garnett (2008), Ray Allen (2009), Rajon Rondo (2010).
The favorite: The Celtics haven't had a repeat winner of the award since its inception, so it will be interesting to see if one of Boston's Big Four takes home the honor for a second time. If that's the case, the odds-on favorite has got to be Pierce, who has not only (quietly) been the MVP of this team on the court, but has been his usual involved self off the court, most notably with his Truth on Health initiative.
The other favorite (no repeat offender): Before the season, you probably could have pegged Kendrick Perkins for this award to finish off the cap tip to Boston's familiar starting 5. But in the wake of Perk's trade, there's a whole lot of new faces on this team and, if the Celtics elect to skip a repeat recipient, there's not a lot of players to chose from. But that shouldn't diminish the honor if the team elects to go with Glen Davis. Big Baby not only stepped up his play on the court this season, essentially serving as the fifth starter (even if he comes off the bench in the Sixth Man role), but was one of the most active participants in the team's off-the-court events.
The dark horse: His season has been riddled by injuries, but the Celtics should consider Delonte West as well. After a tumultuous summer, maybe no one has worked harder to get where he has this season than West. He pushed his body to the limit in the preseason and has routinely been on the final shooters on the floor after practice. His production is spiking late in the season with health woes behind him. And, as with Davis, West might lead the team in off-the-court appearances (from reading books at local Elementary Schools to T-Mobile appearances).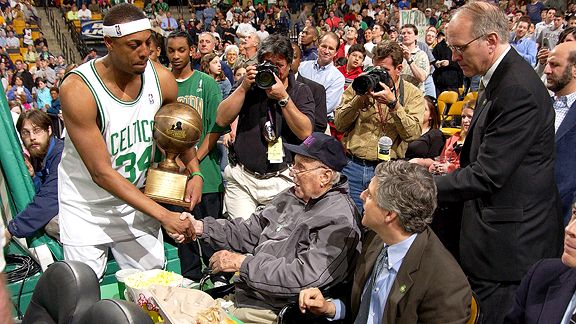 Brian Babineau/NBAE/Getty Images
Paul Pierce accepts the inaugural Auerbach Award, with its namesake on hand, in 2006.