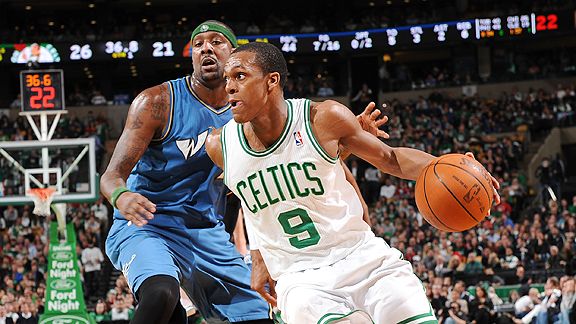 Brian Babineau/NBAE/Getty Images
Rajon Rondo drives against the Washington Wizards on Friday.With a focus on playoffs home-court advantage, failure is not an option for the motivated Celtics:
--WITH EYES ON No. 2 SEED, C'S FIGHT BACK(-TO-BACK)--
It didn't have to be this hard. But an inability to harness its intensity night in and night out has left Boston stumbling to the regular-season finish line.

Celtics coach Doc Rivers certainly doesn't like the position his team has put itself in. He's admittedly bothered by the fact that his troops have made the final week of the regular season so important to their potential postseason success.

And so, after shunning seeding talk for much of the week, Boston is now fixated on securing the No. 2 seed in the East, which would ensure home-court advantage through the first two rounds of the postseason.

"It does bother me," Rivers said. "If we had done our job, this would have been decided. That should bother me. Now we put ourselves in this position, where we're going to get an extremely hungry team in Miami [on Sunday], for a lot of reasons.

"Even if we had [the No. 2 seed] clinched, [the Heat would be motivated] because we've beaten them three times. We're going to the hornet's nest and now we have to deal with it."