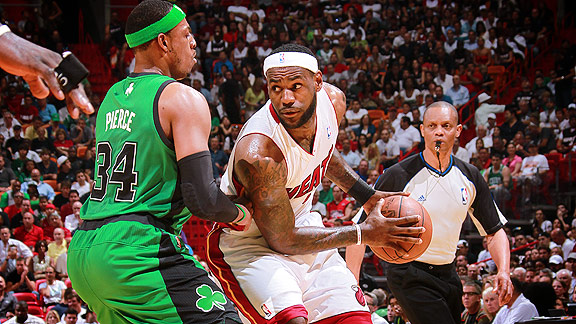 Victor Baldizon/NBAE/Getty Images
Paul Pierce and the Celtics couldn't slow LeBron James and the Heat.MIAMI -- Rapid reaction after the Miami Heat defeated the Boston Celtics 100-77 Sunday afternoon at American Airlines Arena:


HOW THE GAME WAS WON
LeBron James poured in a game-high 27 points on 11-of-19 shooting, adding 7 assists, 5 rebounds and 4 steals over 37 minutes, while his Miami Thrice partners Dwyane Wade and Chris Bosh combined for 27 points, 13 rebounds, 8 assists and 2 blocks. Paul Pierce scored a team-high 24 points, hitting a trio of 3-pointers for Boston, while Kevin Garnett chipped in 21 points (but went quiet in the second half).
TURNING POINT
The Heat came out of halftime with a seven-point cushion and quickly pushed that lead to double digits. With less than five minutes to play in the third quarter, Boston looked like it was finally going to mount a rally as Pierce drilled a 3-pointer and Rajon Rondo added an 18-foot jumper. Soon after, Rondo delivered an outlet pass to Ray Allen on the fast break, but Wade chased him to the hoop and delivered a game-changing right-handed block as Allen tried for a layup from the left side. It turned out to be a five-point swing as, at the other end, Bosh chased down an offensive rebound and drove hard on the baseline for an and-1 bucket over Glen Davis putting Miami on top, 66-55, with 3:34 to go in the third.
STAT OF THE GAME
The Heat finished with a 42-26 advantage on the glass, generating a whopping 15 offensive rebounds that lead to 18 second-chance points.
UNSUNG HERO
Joel Anthony, the 6-foot-9 center with season averages of 2 points and 3.4 rebounds over 19.2 minutes per game, chipped in seven points and 10 rebounds over 35:16 on a night Boston's bench offered little in the way of support.
WHAT IT MEANS
The Celtics, once seemingly entrenched atop the Eastern Conference standings, will finish as the No. 3 seed barring an unforeseen collapse by Miami. Boston could rest its starters on the second night of a back-to-back Monday in Washington, essentially waving a white flag and conceding that No. 2 seed. (Because the Celtics hold the tiebreaker by virtue of winning the season series, the Heat's magic number to clinch the second spot is 2. Miami closes at Atlanta and Toronto; the Celtics finish at Washington and at home against the Knicks.)
The road to the playoffs just got a bit more daunting, but the more concerning aspect is that Boston couldn't get itself up for what amounted to a playoff battle. One can't help but wonder if they'll be able to reverse that when the playoffs start in a week.