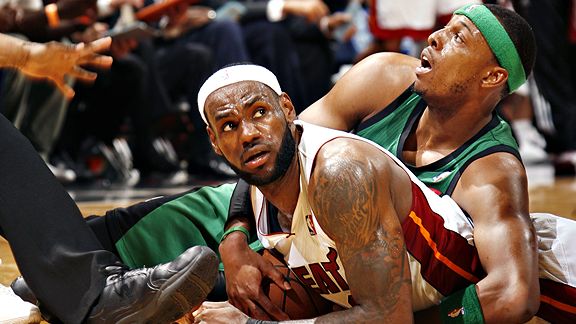 Issac Baldizon/Getty Images
Paul Pierce could only watch at LeBron James and the Heat all but wrapped up the No. 2 seed.With just two games remaining in the regular season, the scuffling Celtics are still a work in progress and in need of a new plan:
--FORSBERG: C'S RUNNING OUT OF TIME TO CRAFT A PLAN--
When Boston Celtics coach Doc Rivers suggests that he doesn't think his team is capable of flipping a postseason switch again this season, it's because he doesn't think people quite understand what his team did a year ago. Battered by in-season injuries, the Celtics' only hope last season was to shut down their stars and cross their fingers that they'd be healthy enough by the time games mattered to make a run. So long before April even arrived, Rivers and his staff sat down and mapped out a plan of attack. This season there's none of that. And on the heels of Sunday's 100-77 throttling by the Miami Heat -- Boston's second loss to a top Eastern Conference foe in four days and a defeat that will likely force the Celtics to settle for the No. 3 seed -- Rivers admitted he can't be as confident in his team's ability to go deep in the playoffs because there is no master plan.
--WINDHORST: HEAT SHOW TOUGHER SKIN VS. CELTICS--
It is said, and with good reason, that in the postseason the more desperate team often wins. The Miami Heat were desperate to beat the Boston Celtics on Sunday because, in many ways, it was their season. They tried before the game with clichés to insulate themselves in case there was another loss. Then after the win, they played it cool, acting as though it was routine.
* The Heat Index: The Heat's supersubs | Five things we saw | Heat grades