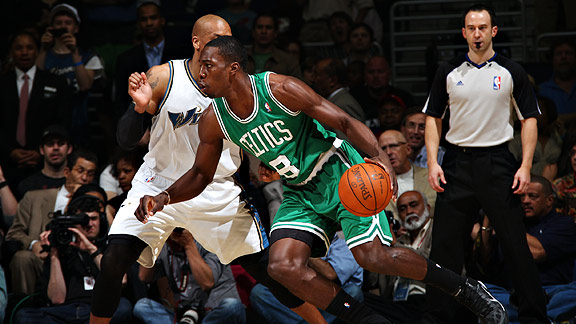 Ned Dishman/Getty Images
Jeff Green got big minutes as Boston's starters got rest in Washington.First impressions after the Washington Wizards defeated the Boston Celtics 95-94 in overtime Monday night at the Verizon Center in Washington D.C.


HOW THE GAME WAS WON
Wizards rookie John Wall got to the charity stripe 15 times (making 14 of those attempts) while scoring a game-high 24 points and adding nine assists over 46 minutes. Fellow rookie Jordan Crawford chipped in 17 points and drilled the winning 3-pointer with 38 ticks to play in overtime, breaking the game's final tie. Jeff Green and Glen Davis scored 20 points apiece in spot starts as Boston rested its Big Four.
TURNING POINT
The Celtics held a seven-point lead with 2:34 to go in the third quarter, but the Wizards embarked on an 11-0 run to pull ahead early in the fourth quarter. With Boston trailing by three with little more than three minutes to go, Carlos Arroyo aided Boston's comeback. After hitting a pair of free throws, Arroyo canned a wide-open corner 3 for a 77-75 lead with 2:31 to go. Davis chipped in Boston's next four points before Arroyo fed Von Wafer on the break for a six-point cushion with under a minute to play. Unfathomably, Boston fumbled away that lead, lowlighted in the extra session by Wafer blowing an emphatic jam and then forcing Jermaine O'Neal to double-dribble by bumping into him.
STAT OF THE GAME
Jermaine O'Neal logged a whopping 36 minutes. On the surface, that's an encouraging number should Boston need to lean on him in the postseason (but let's see how his surgically repaired left knee responds). One thing that's surely a positive is that O'Neal registered five blocks, showing just how much of a defensive force he can be around the basket. Nenad Krstic and Delonte West added two blocks apiece for Boston, while Davis added the highlight of the night with by rejecting JaVale McGee in overtime. That said, the Wizards registered 11 blocks of their own, highlighted by nine blocks between McGee (5) and Andray Blatche (4).
UNSUNG HERO
Before his gaffe, Wafer had put together a fairly solid outing, maybe one that could have (and still might) thrust him ahead of Sasha Pavlovic in the competition for a spot on Boston's active playoff roster. Alas, he missed a free throw that could have put the game away late in the regulation, then produced the head-slapping sequence with Boston up two in the extra session.
WHAT IT MEANS
For a fleeting moment it appeared the Celtics might stumble back into the hunt for the No. 2 playoff seed as Boston was on the cusp of winning this one and the Hawks were putting a scare into Miami. Alas, the Heat prevailed and the Celtics didn't -- that locks up the postseason playoff picture and third-seeded Boston will joust with the sixth-seeded New York Knicks in the first round of the Eastern Conference playoffs. Ironically, the two teams meet in both squads' regular-season finale Wednesday. Don't expect many hands to be tipped.