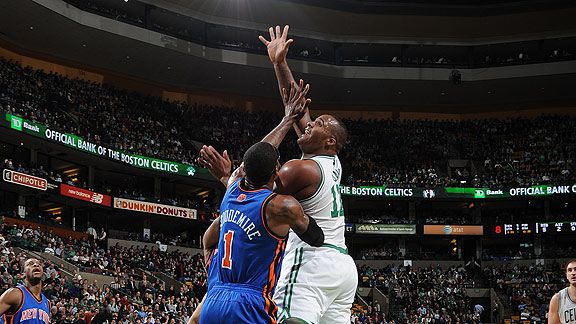 Steve Babineau/NBAE/Getty Images
Glen Davis and Amare Stoudemire get ready for their postseason tussle.BOSTON -- Rapid reaction after the Boston Celtics defeated the New York Knicks 112-102 in the regular-season finale Wednesday night at TD Garden:


HOW THE GAME WAS WON
Rookie Avery Bradley poured in a game-high 20 points on 10-of-16 shooting over 27 minutes off the bench, while Sasha Pavlovic chipped in 19 points on 7-of-10 shooting over 35 minutes off the pine in what amounted to a mere playoff appetizer. Glen Davis added 17 points, while Jeff Green and Von Wafer added 14 apiece as Boston's offense scored early and often against the Knicks' B-Team. Landry Fields scored a team-high 16 points over 31 minutes for the Bockers.
TURNING POINT
The Celtics opened the fourth quarter on an 11-0 burst that featured five different players scoring, closing with Pavlovic drilling a 3-pointer before a Troy Murphy dunk for a 97-84 lead with 7:54 to go. The Celtics added another 11-2 run a short time later, the reserves spreading the ball around again as the lead ballooned to 110-90 after a Murphy layup with 3:42 to play.
STAT OF THE GAME
Boston's three-man bench of Bradley, Pavlovic, and Murphy combined for 48 points, good for a top five outing for the Celtics' reserves this season. Murphy connected on 4-of-6 shots for nine points, including his first 3-pointer in a Boston uniform.
UNSUNG HERO
Pavlovic is likely fighting for a spot on the 12-man active roster in the playoffs, but might have shown enough at both ends to warrant a final spot. He's still gotta edge Wafer, but, ultimately, as Doc Rivers said pregame, the Celtics hope to never have to lean on the end of their bench in the postseason.
WHAT IT MEANS
With 82 games in the bag, it's time to turn our attention to the postseason and the upcoming best-of-seven series with the Knicks. The Boston reserves got some extended time and hopefully they enjoyed it. The Celtics will lean on an eight-man roster comprised heavily of the guys who weren't on the floor Wednesday as they start their postseason quest for Banner 18.