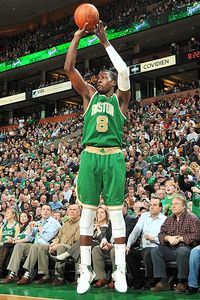 Brian Babineau/NBAE/Getty
Jeff Green is ready for his first postseason in Celtics' green.WALTHAM, Mass. -- The rigors of an 82-game regular season often forced the Boston Celtics, maybe more than most teams, to sacrifice what would otherwise be practice time for the opportunity to simply rest an aging core this year. Boston has been hungry for the chance to hit the practice floor, mainly to continue to integrate the five new players it acquired at and after the February trading deadline, and will finally get that opportunity this week.
With the regular season having ended on Wednesday and Game 1 of the opening round of the playoffs against the New York Knicks not coming until Sunday, the C's have been granted three days in which they can schedule practice sessions, and they plan on taking advantage of all of them.
"These are going to be big practices for us," said captain Paul Pierce. "For one, you know, we don't have [Shaquille O'Neal] in there, he hasn't practiced in a while. Practice time has been limited, so right now this is what we play the game for, this opportunity. We've got three days of practice, so there's no more excuses for us."
As Pierce noted, reintegrating O'Neal will be crucial, but equally important will be establishing set roles for Jeff Green and Nenad Krstic within head coach Doc Rivers' rotation. When the Celtics traded for Green and Krstic back in late February, Rivers admitted his most difficult task would be properly integrating Green into his club's various schemes. The experiment has been ongoing for several weeks now, but the desired results have yet to take shape. Green has certainly shown flashes of the player the Celtics want him to be, but he has lacked the ever-important consistency, which will be examined under an even finer microscope once the playoffs commence.
Krstic has found himself in a similar situation. It was assumed he would join the Celtics' second unit off the bat, but injuries to Shaq and Jermaine O'Neal forced him into a starting role, and he's had to rotate in and out of that spot over the last two weeks. While Shaq's availability is still in question, Jermaine is expected to be ready for the playoff opener on Sunday, and him garnering reps with the starters in practice will give Krstic the opportunity to better blend in with the reserves.
While Rivers hasn't labored over the uncertainties surrounding two of his most important bench commodities, he is hoping three consecutive days of practice will put any remaining issues to rest.
"I don't really harp on it or really worry about it," said Rivers. "It's the situation we're in... I think with Jeff and Nenad, we can get them integrated to where they'll be ready to play."
Green said before practice on Thursday that he's still unclear as to exactly how Rivers will utilize him in the postseason, and that him feeling comfortable and confident in Boston's system is still a "work in progress."
"My main goal is just to go out there and play hard," said Green. "Whatever Doc [Rivers] wants me to do, that's what I'm going to do. It will vary every game. There will be different matchups that he's going to try to throw at [the Knicks], so I'll just go out there and play hard."
Turning that work of progress into a work of art will be the goal of the consecutive practice days. Rivers doesn't seem shocked by how slow the integration process has been, given that his team has had very few days of practice since acquiring Green and Krstic, but noted the continuity of practice over the next few days should have a significant impact.
"It's been less than seven days, I think; Not a lot of time," Rivers said of Boston's limited practice time recently. "More importantly, we haven't had any multiple days, where you practice and you have another one the next day, where you can work on stuff. That will help us all."
Kevin Garnett understands how much the Celtics will rely on the production of him, Rajon Rondo, Ray Allen, and Paul Pierce throughout the playoffs, but he's fully expecting help from newer players like Green and Krstic as well.
"Yeah, that's what I'm expecting," said Garnett. "I'm expecting the additions to this team to come in and help, absolutely."
Fortunately, the Celtics now have the practice time to help make sure that that happens.
Greg Payne is a student intern for ESPNBoston.com