Hot Button: Flipping switches
April, 14, 2011
4/14/11
6:17
PM ET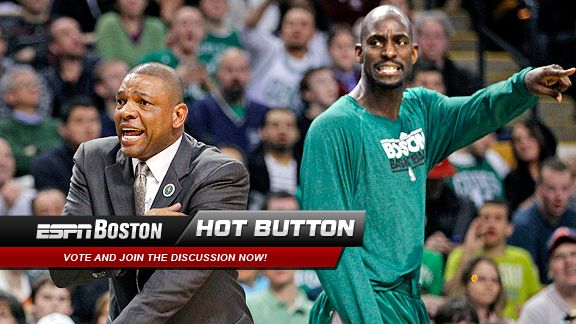 AP Photo/Elise AmendolaCan Kevin Garnett and the Boston Celtics flip a switch again this postseason?
In the latest
Hot Button poll
, we debate whether the Celtics can "flip the switch" for a second straight season. Here's a glimpse at the arguments:
--
FORSBERG: REST, PRACTICES WILL AID SLUMPING C'S
--
For the second straight season, the Boston Celtics have offered no reason to believe they are fit for a run at a world title with their uninspired late-season play. And while even coach Doc Rivers has admitted that this year's team doesn't have the flip-the-switch potential of last year's squad that surged within six minutes of Banner 18, you simply can't write off the 2010-11 Celtics before the postseason even begins. Why should anyone be confident the Celtics can actually pull off a repeat of last season? Here's a handful of reasons: No back-to-backs, more practice time, more game-planning, and veteran experience.
--
MAY: ALL SIGNS POINT TO A POWER FAILURE FOR BOSTON
--
Flip the switch? How about pull the switch? We're about to begin the 2011 playoffs and the Boston Celtics, once again, have cratered in the second half of the season to go from conference favorite to utterly unpredictable wild card. Last year, they rose up as one and smote the rest of the Eastern Conference infidels en route to the Finals. No one expected it then. How can anyone be expecting it now?
Click
HERE
to vote in the Hot Button poll.
PODCASTS
Paul Solotaroff, NFL
Play Podcast Men's Journal's Paul Solotaroff weighs in on the characterization of Richard Sherman, the relationship between Sherman and Patrick Peterson and expectations for Darrelle Revis.
Baseball Tonight - Dominant Pitching
Play Podcast Adnan Virk talks to Tim Kurkjian about dominant pitching performances and the search for the next commissioner. Plus, Arash Madani on if the Blue Jays can make the playoffs.
Greg Cosell, NFL
Play Podcast NFL Films' Greg Cosell weighs in on whether the Browns should start Brian Hoyer or Johnny Manziel, the Jets' QB situation, Ryan Mallett's abilities and Robert Griffin III's development.