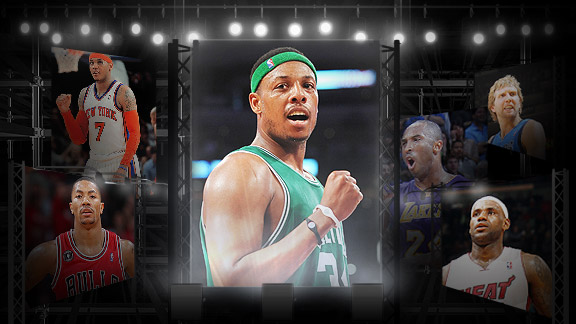 ESPN.com Illustration
Paul Pierce is the one Boston wants with the ball when it matters.Celtics captain Paul Pierce (and everyone else) knows he's getting the ball with the game on the line. But why isn't Kevin Garnett calling for it? ESPN Boston's Jackie MacMullan examines:
NBA PLAYOFFS: LEADING MEN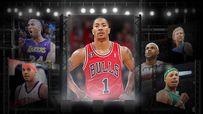 Who will shine brightest on the NBA's biggest stage? Our ESPN Local sites put the spotlight on their team's star player.
• ESPN Chicago: Rose ready to bloom »
• ESPN LA: How long can Kobe reign? »
• ESPN Boston: Pierce still C's top dog »
• ESPN Dallas: Dirk a postseason force »
• ESPN NY: It's showtime for Carmelo »
--SHOULD C'S TRAIN A NEW TOP DOG?--
As Shaquille O'Neal once noted, "If you don't have dogs, forget about digging up any rings." With some contending NBA teams, it's easy to identify the "alpha dog" -- that dominant player who takes over basketball games and willingly steps up to take the big shot, makes the big play, delivers the big speech (or impassioned tongue lashing) when his team needs it most. Kobe Bryant will do that for the Los Angeles Lakers and Derrick Rose appears poised to accomplish the same for the Chicago Bulls. But who qualifies as Top Dog for the Boston Celtics? It has been a spirited debate since the Big Three was formed in August 2007. Initial skeptics of the trades that brought in Kevin Garnett and Ray Allen to join resident superstar Paul Pierce argued that while all three players were elite future Hall of Famers, they were all 1A players instead of that flat-out No. 1 alpha dog.