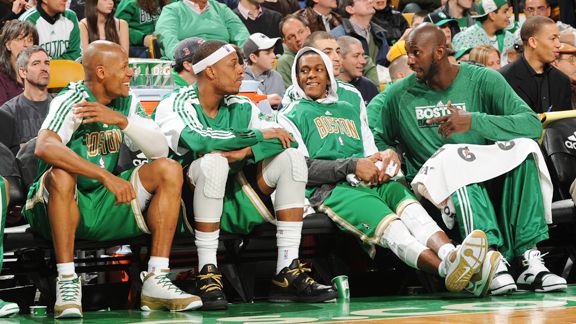 Steve Babineau/NBAE/Getty Images
Boston's Big Four kicked back and relaxed for the final two games this season.After some frustrating late-season struggles, the Celtics hit the refresh button this week, getting their veterans rest and diving into some rare practice time to prep for the playoffs:
--RENEWED CELTICS READY FOR POSTSEASON--
As the Boston Celtics assembled at the Sports Authority Training Center at HealthPoint on Thursday for the first of three scheduled practices leading up to their first postseason game Sunday against the New York Knicks, it almost felt like training camp again. Nearly 200 days have passed since the team convened for a season-opening, three-hour session at the Rodgers Recreation Center on the campus of Salve Regina University. Thanks to a late-season stumble, Boston failed in its preseason goal to secure a top seed and make its playoff path a little less daunting this time around. But none of that seemed to matter Thursday. For the first time since a heartbreaking loss in Game 7 of the 2010 NBA Finals, the Celtics have a chance to actually start the atonement process. What's done is done with the regular season, but there's a chance to make things right in the playoffs.
Morning leftovers
A handful of links from Thursday that we didn't previously direct you towards:
* 5-on-5: Most intriguing matchups, Upset City?: Five ESPN.com writers weigh in on five questions surrounding the 2011 NBA playoffs, with Boston earning two votes in the dubious category of, "Which team screwed up worst in terms of playoff seeding?"
* The Most Unlikely Impact Player: The Wall Street Journal profiling Tony Allen?! Mind = Blown. Key quote from Mike Conley: "[Allen is] clinically insane. He's so loud, it can be obnoxious. It'll be 7 o'clock in the morning, and he'll be babbling about something."
* C's do film work; Knicks hit TV airwaves: The Celtics utilized the first postseason offday to go through a light practice and film session. The Knicks? Amare Stoudemire hit up "LIVE! with Regis & Kelly," while Carmelo Anthony chatted with David Letterman. Said Stoudemire: "I think now it's just a matter of us continuing to learn how to play together. We're fairly new with each other, and it takes more time to get the chemistry. But it's now the playoffs and so I think we're ready."