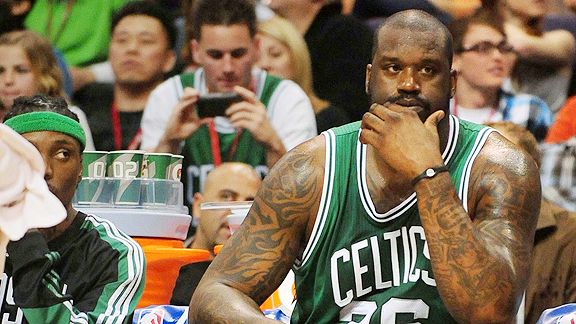 Getty Images
Will Shaq play in Sunday's Game 1? We'll know more Saturday.Shaquille O'Neal could play Sunday ... or he could sit. The Celtics don't know which it will be, so they've been forced to plan for both:
--SHAQ KEEPS CELTICS' PLANS IN THE AIR--
But the one 7-foot-1, 325-pound question mark remains: whether the Celtics will have the services of O'Neal at the start of the postseason. And, if nothing else, it's causing extra work for Rivers and his staff. "I'm anxious, but listen, if he can't go, we've got other guys," Rivers said Friday after his team engaged in a rigorous two-hour-plus session, all of which O'Neal simply observed from the periphery after previously hoping to test out the right calf he sprained earlier this month in his first and only game appearance since Feb. 1. "If [Shaq] can go, it helps us. I literally have two plans. That's why our staff, I told them to prepare two plans, and that's what we're doing."
* More: Shaq sits out Friday's practice | Jermaine O'Neal healthy and ready for postseason