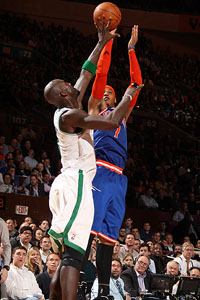 Nathaniel S. Butler/NBAE/Getty
Carmelo & KG: Two players to watch this series.By slipping to the No. 3 seed in the East, the Boston Celtics have drawn a dangerous Knicks squad and there's no shortage of intrigue as the two teams prepare to meet in the Eastern Conference quarterfinals:
--MAY: WHAT TO WATCH IN ROUND 1--
Madison Square Garden is once again a happenin' place (at least it is until the current season-ticket holders recover from sticker shock for the price to renew for next season). The estimable Chauncey Billups pronounced the Knicks as "dangerous." They certainly appear to be your basic "tough out." But outside of Spike Lee and The Donald, is there anyone who thinks the Knicks have enough to upset the Boston Celtics in the first round? The 10 experts of ESPN.com all picked the Celtics to prevail. The wiseguys in Las Vegas like the Celtics. "I feel good that our team will be ready,'' Celtics coach Doc Rivers said after the regular-season finale Wednesday. They'd better be.
* ESPN New York: Sheridan: Inside the Matchups -- A position-by-position breakdown