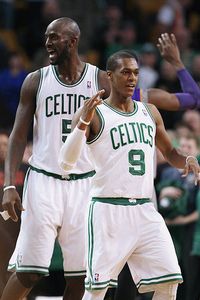 Elsa/Getty Images
Kevin Garnett and Rajon Rondo landed in the top five for Defensive Player of the Year.WALTHAM, Mass. -- Celtics forward Kevin Garnett finished second in the voting for Defensive Player of the Year, earning one of only five first-place votes not cast for landslide winner Dwight Howard of the Orlando Magic.
Howard finished with 585 points off 114 first-place votes and five second-place votes from a panel of 120 sportswriters and broadcasters throughout the United States and Canada. Garnett finished with 77 points, earning one first-place vote, 20 second-place votes, and 12 third-place votes. Dallas' Tyson Chandler (70 points), Memphis' Tony Allen (53 points) and Boston's Rajon Rondo (45 points) rounded out the top five spots.
Garnett won the award in 2007-08, but Howard has swept the last three seasons. Plagued by a late-season knee injury, Garnett finished eighth in the voting in 2008-09, then didn't even register on the balloting while working his way back last season.
This is the second consecutive fifth-place finish for Rondo.
Hop HERE for more on Howard's honor.