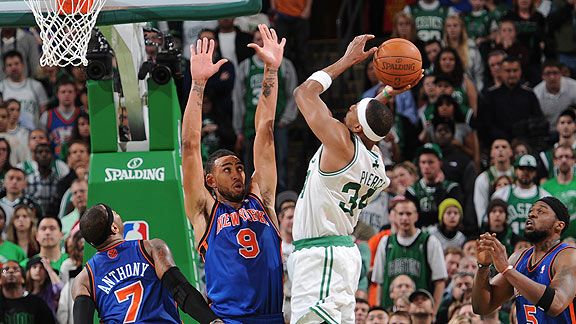 Brian Babineau/NBAE/Getty Images
Paul Pierce got his shots, but expended most of his energy at the defensive end.BOSTON -- Paul Pierce would have taken the shot had the Celtics needed him to.
Despite being 8-of-18 shooting from the field for the game and 1-of-5 in the fourth quarter, Pierce would have shouldered the pressure and fired away one last time with his team trailing 93-92 with 19.3 seconds left in the second game of an Eastern Conference quarterfinal matchup with the New York Knicks.
Instead, on the inbounds play, Pierce drew two Knicks defenders as he cut to the top of the key, leaving Kevin Garnett isolated in the deep post against Jared Jeffries. Rajon Rondo fed Garnett the ball and Garnett hit the go-ahead jump hook in the lane with 13.3 seconds to play, leading the Celtics to a 96-93 victory and a 2-0 series lead.
"We have so many options on that play," said Pierce. "I think Kevin is the first option when he comes, down screens for me. If he's open coach wants me to give it to him and then if not, that's where I get the ball up top for a pick-and-roll. The execution was key. Fortunately that was a play we drew up [Tuesday] morning. That's all about paying attention to the X's and O's and concentrating on executing down the stretch."
Pierce finished with 20 points and five rebounds, on a night when he was asked to do just about everything, from serving as a go-to scorer at times, to trying to defend New York's best perimeter player in Carmelo Anthony -- no small task even for a player put on the floor solely for defensive purposes.
The numbers will suggest Pierce failed, seeing as Anthony erupted for a game-high 42 points on 14-of-30 shooting from the field and 10-of-11 shooting at the free throw line. According to ESPN Stats and Information, Anthony scored 19 of his 42 points on 7-of-13 shooting while being guarded by Pierce. But on Tuesday, nobody was going to stop New York's All-Star forward, given the blissful offensive groove he found himself in. It was the classic case of great offense beating great defense. Pierce and his teammates contested Anthony's jump shots and challenged his attempts at the rim. Pierce did everything he should have done, but Anthony was simply unshakable.
What seemed more frustrating for Pierce was the fact that, after a red-hot third quarter in which he scored 12 points on 5-of-6 shooting, his shooting rhythm abandoned him for the final 12 minutes. Pierce misfired on four jumpers overall in the final frame, coming up empty in his attempts to put his team over the top at a time when it seemed like Anthony was surely going to do so for his squad.
Pierce missed on Boston's first possession of the fourth quarter, and again when the Knicks were in the midst of an 11-2 run that saw them take their first lead of the frame. Then, with three minutes to play and the score knotted at 88, Pierce fired a 3-pointer from the left wing that bounced out, only to see Anthony drain a trifecta of his own on the other end, giving New York a 3-point edge.
Pierce had every reason to be discouraged by the turn of events that seemed to have a very New York state of mind, but he refused to fold. He abandoned the jumper and on Boston's next play he stormed to the hoop on the right side, drew a foul on Jeffries, and drained both free throws. And after another jump shot of his drew iron, Pierce went back down the middle and shoveled a pass off to Garnett for an easy dunk and a 92-91 Celtics lead with just over a minute to play.
"I just continued to play," said Pierce. "I don't really worry about missed shots. I got a couple great looks [as] part of the plays that we executed. More times than not I'll make those shots, but at the end of the day it's all about getting a win."
Garnett and Rondo (30 points on 13-of-23 shooting) might go down as the game's saviors, but Pierce's unwavering efforts made him the perfect setup man.
"Just think about Paul," Celtics coach Doc Rivers said afterward. "We matched his minutes for the most part with Carmelo. He's guarding Carmelo most of the game. They're blitzing him, they're trapping him, they're running at him. And you know we finally figured out a way of giving him some space. It took us a long time; I was a little disappointed in that. I thought we should've figured that out sooner. But then he made big shots for us, and that was huge. And he made big plays, just in general. So, he's terrific, and that's what he does."
Pierce will take a 2-0 series lead over Anthony's 42 points, but the Celtics' captain admitted afterward he needs to try and limit Anthony's scoring prowess as the series moves to New York. Pierce proved in Game 1 that it's possible, when Anthony shot just 3-of-11 while being guarded by him. But it will still take a Herculean effort nonetheless, and in the midst of it, Pierce will still have to find a way to be a reservoir of offense for Boston. It'll be no easy feat, but Pierce is embracing the challenge.
"It's hard. Winning's not easy and those are the things that I've got to do in this series," he said. "I've got to be a defensive guy. I've got to do a better job on Melo, and I have a responsibility on this ball club to be a scorer, a guy that they go to. That's what it is, and that's what being a leader of this team is all about, and I accept the challenge."
Greg Payne is a student intern for ESPNBoston.com