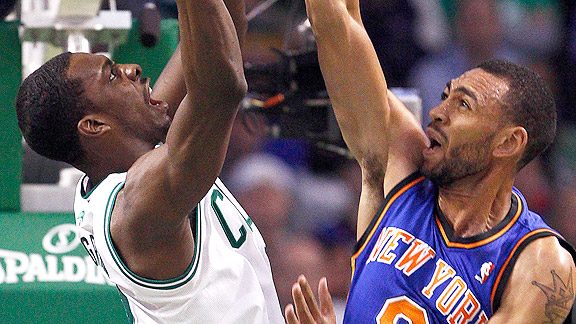 Mark L. Baer/US Presswire
The Celtics need more from Jeff Green and their bench.WALTHAM, Mass. -- The Boston Celtics had a flare for the dramatic in the first two games of their Eastern Conference quarterfinal playoff matchup with the New York Knicks. Last-second buckets from Ray Allen and Kevin Garnett in Games 1 and 2, respectively, may have given the Celtics a healthy 2-0 series lead in exciting fashion, but they're willing to scrap the cliff-hanger script and settle down for something a little more ordinary -- possibly even mundane -- in Games 3 and 4.
The C's are still looking for their first full 48-minute team effort of the playoffs -- the one they're convinced will result in something other than a last-second, nail-biting victory. So far, the starters have done the heavy lifting, occasionally glancing back to see if the reserves are interested in relieving them of their duties for an extended stretch or two.
The Celtics were ready to lean on their starting five of Rajon Rondo, Ray Allen, Paul Pierce, Kevin Garnett, and Jermaine O'Neal, but perhaps not to the extent they've needed to through two games. In Game 1, the starters accounted for 79 of Boston's 87 points, 36 of its 44 rebounds, and 17 of its 20 assists. Game 2 was only marginally better with the first five producing 82 of 96 points, 26 of 37 rebounds, and 18 of 21 assists.
"Listen, that's why it's such a team game," Celtics coach Doc Rivers said after the team held a brief film session at the Sports Authority Training Center at HealthPoint on Wednesday. "Sometimes your bench plays well and your starters don't. It's never going to be perfect, we know that. And when that happens, it puts more pressure on your starters and they just have to come through for you. There will be a game in this series, where a couple of our starters won't play well and somebody on our bench will step up. Just the nature of the beast."
Rivers is fortunate he hasn't had to worry about the likes of Glen Davis, Jeff Green, Delonte West, and Nenad Krstic covering up for a poor showing from one of his starters. The reserves did nothing in Game 1 to atone for the poor defensive tone established by Garnett and Co., and worse yet, in Game 2, their lackluster play cost the Celtics all but two points of a seven-point first quarter advantage and had a hand in the Knicks climbing out of an 11-point hole late in the third quarter and early in the final frame.
"It's about effort, truthfully," said captain Paul Pierce after Tuesday's 96-93 Game 2 victory. "That group, if they can just go out, play hard, rebound, scrap, play defense, and maintain a lead when we get it, that's really what it's all about. We can't have a 10-point lead, the bench comes in, [and they lose it] right away. So hopefully they understand what's at stake. It's the playoffs, so every possession is big."
Davis' play has been the most acceptable, despite an ice-cold 1-of-8 shooting performance in Game 1. He recovered from a defensive lapse in the fourth quarter of Game 2 that resulted in a Jared Jeffries layup by rebounding a Rondo miss and putting it back in to tie the game at 86 with just over five minutes remaining. His rebounding production has been vital, as his 11 total rebounds in the two games is the third highest on the team behind Garnett (23) and Rondo (13).
When asked how the second unit can get its groove back, Davis suggested a solution similar to Pierce's.
"You know, just make sure we go out there and play with energy," Davis said. "We've got four scorers and then when the second team's out there, one of those scorers is out there with us, so we do what we can, making sure that we're just energy players. I think we have to do a better job of matching the intensity of the other team's energy players."
West and Green, meanwhile, have experienced their fair share of struggles on the offensive end, as the pair is a combined 6-of-18 from the field through the opening two games. The only bright side is they've both proven that they can create quality looks for themselves against the Knicks' defense. The bigger concern remains the defensive end. The Celtics can survive offensive droughts from their reserves as long as they continue to live up to their defensive reputation and prevent their opponents from putting the ball in the basket. From there, they can generate easier baskets by pushing the ball in transition.
"Defensively, first, it helps you," said Davis. "Defense transitions to offense, so we try to do what we can on the defensive end, making sure that we get stops. On the offensive end we just make sure we run what we're supposed to run."
One thing that is certain is that Rivers won't turn his back on his bench. He said confidently on Wednesday that he'll continue to play his reserves, and a convincing effort from them would go a long way towards easing the potential for some more last-minute tension in Friday's Game 3.
"You just keep playing them," Rivers said. "I don't have any lotion or anything I can put on them. You just keep showing them what they can do. Show them what we're not doing, then you show a lot of positives, to show that they can do it and how we do it. Then you hope they just do it.
"I'm going to play our bench whether they are playing well or not, because they will play well. They just have to. It's only two games. They'll come through."
Greg Payne is a student intern for ESPNBoston.com