Player X: KG is a 'punk and a coward'
April, 21, 2011
4/21/11
4:41
PM ET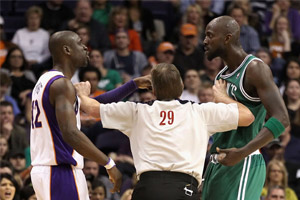 Christian Peterson/Getty Images"Show me a trash-talker, and I'll show you a winner," says Player X. "Unless his initials are KG."
ESPN the Magazine features a recurring series called 'Player X' in which an anonymous star dishes about the league. In his fourth post of the current series, an anonymous NBA star
takes a big swing
at
Kevin Garnett
while writing on trash talk in the NBA.
From the
Player X blog

:
Garnett is a punk and a coward. I know, I know. Easy for me to say behind this column. Don't worry, I'll tell him to his face, too. And I'm not the only one who thinks that: If you're not on his team, chances are you hate the guy. You can learn a lot about him by watching his eyes. If he's talking to you -- and he's always talking -- he avoids eye contact. My advice to other guys in the league: Stare him down, and he'll retreat. From what I've seen, he'll never mix it up with a player who's bigger than he is. Personally, I think he's scared to fight -- like a playground bully who barks but doesn't bite.

But I have to admit, the Celtics are the most talkative guys in the league. And that makes sense, because it's the mark of a championship team. Mouths help you win big games. Ray Allen got mean in Boston, and Paul Pierce will look at you, say, "Stop this," then drop a J on your head.
PODCASTS
Baseball Tonight - Lester Moving?
Play Podcast Buster Olney and Jayson Stark talk about the chances that Jon Lester and David Price will be moved before the deadline. Plus, Roch Kubatko on the Orioles' momentum.
Tedy Bruschi, NFL
Play Podcast ESPN NFL analyst Tedy Bruschi weighs in on the responsibility Tom Brady shoulders for the Patriots, Rob Gronkowski's physicality and how New England will use Darrelle Revis.
Baseball Tonight
Play Podcast Buster Olney talks to Alex Speier, Karl Ravech and Justin Havens about whether the Red Sox will move Jon Lester before the trade deadline, pace of play and much more.