Rapid reaction: Heat 99, C's 90 (Game 1)
May, 1, 2011
5/01/11
6:25
PM ET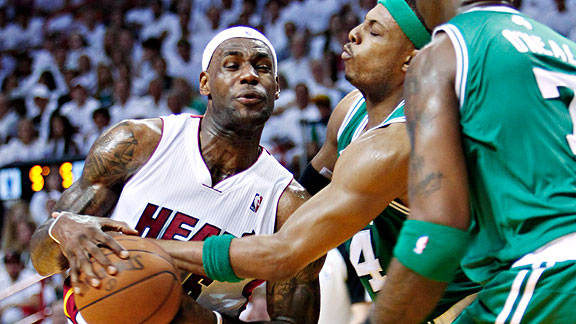 AP Photo/Wilfredo LeeThe Celtics lost their cool ... and Game 1 vs. the Miami Heat.
MIAMI -- Rapid reaction after the
Miami Heat
defeated the
Boston Celtics
99-90 in Game 1 of their Eastern Conference semifinal series Sunday at American Airlines Arena:


HOW THE GAME WAS WON
Dwyane Wade
shook off his regular-season shooting woes against the Celtics, pouring in a game-high 38 points on 14-of-21 shooting, while
LeBron James
chipped in 22 points on 8-of-19 shooting to pace the Heat. Boston labored through a frustrating night, from
Paul Pierce
getting ejected after a pair of technical fouls in the fourth quarter to
Kevin Garnett
's offensive struggles (3-for-9), and fumbled away this game at every turn.
TURNING POINT
The Heat withstood numerous Boston charges, but the game got away from the Celtics late in the third quarter. Trailing by as much as 19 shortly after intermission, Boston whittled away at its deficit and was within nine with 2:30 to play. That's when
Jermaine O'Neal
got tagged with a questionable flagrant foul for a wandering elbow that put hot-shooting
James Jones
on the ground under the Miami basket. Jones made both freebies and, maintaining possession,
Mike Bibby
hit a 3-pointer for a monster five-point possession. Less than two minutes after the flagrant, the Celtics were down by 18 with 40 ticks to play in the quarter.
STAT OF THE GAME
Zero assists for
Rajon Rondo
in the first half. Dubbed the key for Boston in this series, Rondo endured early foul trouble and was a nonfactor until the second half. He finished with eight points, seven assists, three steals and five turnovers over 31 minutes.
UNSUNG HERO
Jones, who spoiled All-Star weekend for the Celtics by besting Pierce and Ray Allen in the 3-point contest, did far more lasting damage with the 3-ball in Game 1. Jones not only scored 25 points, outscoring the Boston bench by himself, he did so by connecting on 5-of-7 trifectas and tweaked the Celtics enough to earn one of Pierce's two fourth-quarter technicals after a hard foul by Jones.
WHAT IT MEANS
Boston did just about everything it could to give this game away and somehow still stood within striking distance in the final minute. Regardless, this one was ugly for the Celtics. If Boston came here hoping to simply steal a game, it can still do that in Game 2, but it has to play smarter. The Celtics made uncharacteristic errors throughout the game, which prevented them from making a serious charge. Credit the Heat, who overcame early shooting woes and got a boost from Jones to take Game 1.
PODCASTS
Paul Solotaroff, NFL
Play Podcast Men's Journal's Paul Solotaroff weighs in on the characterization of Richard Sherman, the relationship between Sherman and Patrick Peterson and expectations for Darrelle Revis.
Baseball Tonight - Dominant Pitching
Play Podcast Adnan Virk talks to Tim Kurkjian about dominant pitching performances and the search for the next commissioner. Plus, Arash Madani on if the Blue Jays can make the playoffs.
Greg Cosell, NFL
Play Podcast NFL Films' Greg Cosell weighs in on whether the Browns should start Brian Hoyer or Johnny Manziel, the Jets' QB situation, Ryan Mallett's abilities and Robert Griffin III's development.