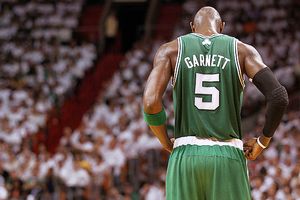 Mike Ehrmann/Getty Images
Kevin Garnett, who hasn't gotten to the free throw line in either of the first two games against the Heat, knows the Celtics need to change their ways.Kevin Garnett already had plenty of responsibility heading into Tuesday's Game 2 tilt with the Miami Heat.
After taking just nine field goal attempts in Sunday's Game 1 defeat, Celtics head coach Doc Rivers expected at least 20 shots from Garnett on Tuesday, as part of a concerted effort to make him one of Boston's primary options on offense.
But that was supposed to just come within the flow of a game. No one could predict what Rivers coined as the "circus" that would ensue as the game went along. Paul Pierce (strained Achilles), Ray Allen (bruised chest), and Rajon Rondo (sore lower back) all had to either leave the game or retreat to the locker room at one point to nurse their respective maladies, leaving an even heavier weight on Garnett's shoulders as the lone Celtics star still relatively close to 100 percent.
It became apparent early on, though, that it simply wasn't Garnett's night.
The Celtics went to him early. He took six shots in the first quarter -- the same shots he takes and makes consistently every single game -- and yet made only two of them. He followed that up by missing all three shots he put up in the second quarter. While Miami's defense might deserve some praise, it was more the fact that Garnett's shots just weren't falling for him. It was becoming one of those games -- games Garnett, Pierce, Allen and every other NBA star has suffered through before, when the ball simply won't find the bottom of the net.
The biggest difference between Tuesday and any other night was the importance of the affair. With the Celtics already in a 1-0 series hole, they needed at least one of their stars to help combat the forces of nature that were LeBron James (35 points) and Dwyane Wade (28 points). But despite a willingness to shoot the ball that was absent in Game 1, Garnett just couldn't convert. If not for some rare offensive production from the Boston bench, the Celtics would have been facing much more than a five-point deficit at halftime.
The third quarter offered the only semblance of hope. After missing his first two attempts of the frame, Garnett suddenly shrugged off his shooting woes as if he was doing nothing more than shedding his pregame warm-up gear. Less than five minutes into the frame, Garnett buried a short left baseline jumper over Chris Bosh off of a feed from Jermaine O'Neal. Less than a minute later he converted a tougher fading shot from the free throw line over Bosh. Two in a row. Shortly after he buried two more jumpers on back-to-back Boston possessions, each of which gave the C's the lead at the time. Four in a row.
Garnett capped off his 10-points-in-five-minutes stretch with an easy dunk on the left block off of a difficult bounce pass from Rondo. It helped the Celtics stay afloat, as James was in the midst of rattling off 12 points of his own to end the quarter for the Heat. When the dust had settled, Boston was still breathing, staring at the same five-point deficit it faced at halftime heading into the final frame.
Unfortunately for Boston, like a birthday candle, Garnett's flame was only temporary, and was promptly extinguished over the final 12 minutes. He made just one of three shots in the fourth quarter (not including the shot that was rejected by James in the final minute), capping off an unsightly, and undoubtedly frustrating, 8-for-20 showing with 16 points and six rebounds over 37 minutes. Both of Garnett's misses came during the 22-11 run Miami erupted on over the final seven minutes to close the game, when the Celtics were in desperate need of baskets.
Garnett hit the desired mark of 20 field goal attempts -- the majority of which were makeable looks -- but couldn't put enough down to make the desired difference that Boston was so in need of with so many of its stars limited. Making matters worse was the fact that Garnett failed to get to the free throw line once to generate easy points, for the second straight game.
After Tuesday's loss, Garnett was asked about his frustrating shooting performance, but he shrugged off his own woes in favor of the bigger picture.
"A loss is frustrating," Garnett said. "I'm not going to say one or two plays made it tougher than this or whatever. When you lose it's tough. We knew it was going to be hell coming in here, playing. Now it's time for us to go home and take care of our home court."
Including Wednesday, the Celtics will have three days off before they'll look to cut into Miami's commanding 2-0 series lead on Saturday. The likes of Rondo, Pierce, and Allen will welcome the time to rest their bodies. Garnett will welcome the time to re-discover his shooting stroke.
Greg Payne is a student intern for ESPNBoston.com