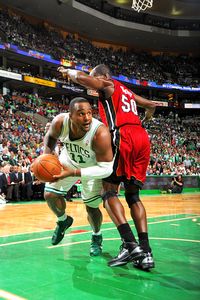 Brian Babineau/NBAE/Getty
Glen Davis is struggling and he isn't hiding from it.WALTHAM, Mass. -- Something didn't add up for Celtics forward Glen Davis over the course of Saturday's 97-81 Game 3 victory over the Miami Heat. Tabbed as arguably the Celtics' most important bench commodity, he played just 11 minutes -- his fewest in any game of the entire 2010-2011 season. This in what was unquestionably the most important game of Boston's season.
Part of it was the fact that Kevin Garnett was in the midst of a throwback 28-point, 18-rebound effort that saw him play 38 minutes, but the larger reason revolves much more closely around Davis himself. He entered the season as a self-proclaimed energy guy, but hasn't played that role much in this series. Despite having been the Celtics' fourth leading scorer during the regular season, the points can take a backseat to the charges drawn, the rebounds pulled down and the consistent effort on the 50/50 hustle plays that sometimes make or break a team in a specific game.
An ideal night for Davis is one in which a typical box score cannot necessarily do justice.
"He has to play better," Celtics coach Doc Rivers said of Davis. "And it's not about scoring. It's about rebounding, it's about taking charges -- being our energy guy. That's what he is. And when he gets caught [trying to be an] offensive player, thinking offense, that [hurts his play]. We'll free his mind up eventually. And the sooner the better."
Davis diverting from his wanted role -- more so than his bleak averages of 3.3 points and 3.3 rebounds on 30.8 percent shooting -- has made him all but invisible against Miami. An inconsistent reserve carousel has been spinning throughout the postseason, and while guys like Jeff Green and Delonte West have had fingers pointed at them, the spotlight is now shining brightest on Davis, who has reiterated time and again that he aspires to a leadership role amongst his bench comrades.
But so far against the Heat, he's shown little that his teammates would be in a rush to emulate, and he knows it.
"I've just got to play better. Point blank," Davis said prior to the Celtics' offday video session on Sunday.
Asked what, if anything, has been hindering his production, he pointed at himself and said, "Me. That's it."
Davis understands he's past the point of having to prove his abilities to his teammates and coaches.
"It's like I've proved myself. I don't have to prove myself again, you've just got to play," said Davis. "You know what I'm saying? I know what I can do. It's just about going out there and doing it."
Davis has stolen the postseason stage in years past, like in 2009 when he filled in for the injured Garnett, or last season when he operated under his "Shrek" alias and played a major role in the Celtics vanquishing the Orlando Magic in the Eastern Conference finals. But so far this time around, he has yet to make the desired impact.
"It happens," said Davis. "It's just the way it is. You're going to struggle. It's a long season, it's a long postseason. The more opportunities we get the chance to win, the more opportunities I get the chance to play, so whatever Doc feels that I need to do, that's what I need to do."
It hasn't helped that Davis has been routinely exposed by none other than Miami's own energy guy, Joel Anthony. Anthony's played his role better for the Heat than Davis has for the Celtics, highlighted perhaps best by the two offensive rebounds he snatched in the opening frame on Saturday and converted into four second-chance points, pulling Miami out of an early hole.
Anthony finished with 12 points and 11 rebounds off the bench for the Heat in Game 3, which measures out to the exact kind of performance the C's cannot withstand from him on a consistent basis. Anthony and fellow reserve Mario Chalmers (17 points off the bench) kept the Heat alive on multiple occasions on Saturday, in the midst of LeBron James misfiring to the tune of only 15 points.
One would think the Celtics have an apparent equalizer to Anthony in Davis, but so far, that potential has yet to be realized. Part of the issue comes back to the Celtics' defensive model, which calls for help defense on slashing perimeter players from the front line, and adjustments might need to be made in order for Davis to keep Anthony under control.
"We're the helper type team, so I'm helping somebody else," said Davis. "When a guy is active like [Anthony], you've just got to focus on him and you can't really worry about helping anybody else, because he's long, he jumps high, he can tip the ball real fast, so we've just got to do a better job."
But rather than just subdue Anthony's contributions, Davis needs to make more of his own. He'll continue to linger under the spotlight for as long as it takes him to re-assume his energy role.
Greg Payne is a student intern for ESPNBoston.com