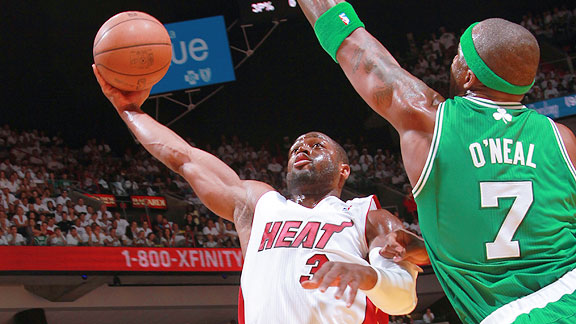 Victor Baldizon/NBAE/Getty Images
The Celtics had no answer for Dwyane Wade and the Heat when it mattered most.MIAMI -- Rapid reaction after the Miami Heat defeated the Boston Celtics 97-87 in Game 5 of an Eastern Conference semifinal series Wednesday night at American Airlines Arena. The Heat win the series 4-1.


HOW THE GAME WAS WON
Dwyane Wade scored 34 points on 13-of-19 shooting with 10 rebounds, five assists and four steals, while LeBron James added 33 points on 11-of-20 shooting with seven rebounds and four assists to again propel Miami to victory. Ray Allen scored a team-high 18 points for Boston, while Kevin Garnett chipped in 15 points and 11 rebounds. Paul Pierce battled foul trouble and mustered just 12 points on 5-of-12 shooting over 34 minutes.
TURNING POINT
The Celtics led by as much as 10 in the first half, and while it was back-and-forth basketball for much of the second half, Boston led by six, 87-81, after a Nenad Krstic jumper with 4:28 to go. James Jones drilled a crucial 3-pointer before a driving Chris Bosh dunk tied the game. LeBron James followed with a monster 3-pointer over Paul Pierce for a 90-87 lead with 2:10 to play. With two chances to tie, Jeff Green missed a bunny and Pierce threw the ball away. James delivered the dagger with another 3-pointer with 40.4 ticks to go and Miami ultimately closed out on a 16-0 run.
STAT OF THE GAME
The Heat got to the stripe for 38 attempts, and even though they shot just 68.4 percent, they still had more makes (26) than Boston had attempts (20). As was the case throughout the series, the Heat were simply the more aggressive team going to the rim.
UNSUNG HERO
Delonte West (10 points over 19 minutes) and Nenad Krstic (eight points over 13 minutes) nearly pulled off their own Shrek and Donkey act, playing inspired ball in Boston's best bench effort of the series. Alas, it wasn't enough.
WHAT IT MEANS
The end of the Big Three era? The Celtics earned their quickest exit in the Garnett/Pierce/Allen era, being dispatched by the Heat in five games. Boston hung around, but age certainly seemed to catch up with it at the end of games. Boston had opportunities throughout this series but will look back particularly at Game 4 and kick itself for how it all slipped away. Now big decisions loom in an offseason of uncertainty. Do the Celtics keep the band together for one more rodeo? Or did this series prove this team needs to be blown up to remain competitive in the new-look East?