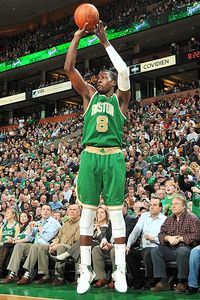 Brian Babineau/NBAE/Getty
The Celtics see a bright future with 24-year-old Jeff Green.WALTHAM, Mass. -- Celtics general manager Danny Ainge said he expects to make restricted free agent Jeff Green a qualifying offer prior to the July 1 deadline, in an effort to retain the services of the 24-year old forward and potentially make him a centerpiece of the club once the Big Three era comes to a close.
The original Jeff Green experiment ended on Wednesday, after approximately three months of what many would say were mixed results at best.
Transitioning from a starter who played 37 minutes per game for the Thunder to a reserve who played less than 25 minutes in every game of the 2011 postseason proved to be difficult for Green. And with the off-again, on-again struggles came waves of external criticism. Internally, however, the Celtics knew Green wasn't going to produce the same statistics he put forth as a member of the Thunder -- a concept that many of Green's critics outside of the locker room never seemed to grasp. Ainge, the man who traded for Green back in February, had his own expectations, and he said the former Georgetown star met them here.
"I think what people don't realize is how hard it is to [change roles]," Ainge said Friday at the Sports Authority Training Center at HealthPoint. "When I played in the [1980s], we brought in players that were hurting us every time we played them, like we couldn't stop them. I think one example is a player named Darren Daye. He used to score 25 every time we played him, but now all of a sudden he's coming in, he's playing behind Larry Bird and Kevin McHale and some games he scores zero playing behind them because he's just coming into the game to give them a rest.
"It's a different role and the expectations need to be different... [Green] gave us scoring, 3-point shooting that we needed, along with good defense and some athleticism. I think Jeff was a bright spot, based on what my expectations were."
Should the Celtics sign Green to a long-term deal, the experiment will begin all over again, only with different variables in play this time around. Ainge told Boston sports radio station WEEI on Thursday that Green will likely play a much larger role for Boston next season (and in seasons beyond), teasing the possibility of him starting in place of someone like Paul Pierce or Ray Allen. Ainge backed off of that possibility a bit on Friday when he spoke with reporters, explaining that he was only suggesting it to illustrate how he would expect Green to do more for Boston next season if he inks a new deal.
"There's some things that can be tweaked," said Ainge. "That's my whole point."
Rewarding Green with a consistent position (he bounced back and forth from small forward to power forward when he joined the Celtics), more minutes, and establishing him as more of a focal point of the team's offense could help to further unlock the potential he clearly has on that end of the floor. At times, Green showed flashes of offensive versatility, from being able to post up on either block and back his man down into the lane, to having the ability to bury shots from behind the 3-point line. But often, Green appeared to lack the ever-important consistency, sometimes going consecutive games without a single post-up or 3-point attempt.
After the Celtics lost Game 5 of an Eastern Conference semifinals series Wednesday against the Miami Heat, Green suggested there is more to his game than what he was able to display in his first few months with Boston.
"These last couple months have been great like I said. Hopefully you'll see more," said Green. "All I'm going to do is just get better. There's a lot to my game that a lot of people haven't seen, a lot of dimensions that I can bring to this team or wherever I'm at."
It appears as though Ainge is banking on that potential becoming reality, under the assumption that an increased role will give Green the necessary room to thrive on a team that will most likely still be filled with aging veteran stars who won't be playing as many minutes as in years past.
"First of all he's a good player right now," Ainge said. "Jeff has proven himself. He's been a starter on a 50-win team in the NBA and probably the third most important contributor to a team. I think that this year in the playoffs he proved that when he was really needed as more than just a player to give rest -- he played behind Ray and Paul and [Kevin Garnett], which is a tough assignment -- but when Paul got hurt in Game 2, Jeff comes in, scores 10 points in a six- or seven-minute span, had five huge points for us in the fourth quarter of [Game 5]. I think Jeff played excellent.
"I think that because of his versatility -- and maybe the expectations were too high because we were trading Kendrick Perkins for him, or I don't know what it is, but we knew that he wasn't going to start, we knew he wasn't going to play 35 minutes. We needed a veteran player, an experienced player, an athletic player, so we know what Jeff Green is. He's a highly efficient offensive player that plays good defense, that has great character, that's 6-foot-9, versatile, athletic, and that's what we need. And he's young, and I think he's just going to get better because of his character and his work ethic."
Greg Payne is a student intern for ESPNBoston.com