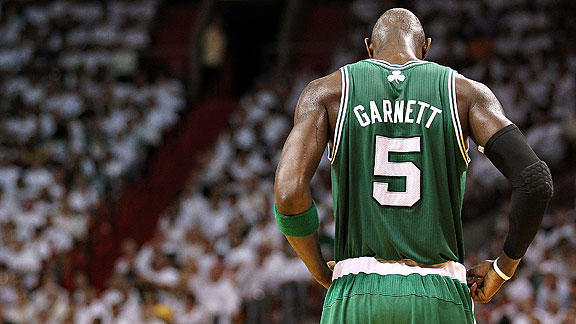 Mike Ehrmann/Getty Images
It was a bounce-back year for a healthy Kevin Garnett.Over the next few weeks, we'll take a player-by-player look at the Celtics' 2010-11 roster and how each player's season unfolded, assigning a grade for their overall performance. This is the seventh in the series of report cards:
Player: Kevin Garnett
2010-11 averages: 14.9 points, 8.9 rebounds, 2.4 assists
2010-11 salary: $18.8 million
Season in a paragraph: Sixteen months removed from right knee surgery at the start of the 2010-11 season, the buzz around Garnett coming out of training camp was that he had regained his explosiveness. He didn't disappoint, looking spry until maybe the final games of the season (when Garnett's touch abandoned him as the Celtics leaned heavy on him against the Heat in an Eastern Conference semifinal series). Garnett saw his numbers jump back up towards pre-injury levels, shooting 52.8 percent from the floor overall (third best for his career) and a career-best 86.2 percent at the charity stripe (though his attempts there have dwindled as his offensive game moves further away from the basket). The best sign of all: Garnett's defensive rebounding returned to form, supporting the notion that health truly affected his play during the 2009-10 season.
Season highlight: With the Celtics staring at a 2-0 series deficit against the Heat, Garnett put Boston on his back in Game 3 and produced his finest playoff outing in a Celtics uniform. Not only did he connect on 13-of-20 shots for 28 points, but he snared 18 rebounds in a 97-81 triumph. (Honorable mention: Garnett put together 28 double-doubles, leading the Celtics in rebounding on 38 different occasions during the regular season).
Season lowlight: Just two days after that brilliant Game 3 performance against the Heat, Garnett produced maybe his worst playoff outing in a Boston uniform. Looking a bit gassed -- or simply off -- Garnett misfired on 9 of 10 shots and settled for seven points over 41 minutes. What's more, he failed to properly set a late-game screen that could have freed Paul Pierce for a potential winning shot at the end of regulation and the Celtics lost in overtime to fall behind the Heat, 3-1.
Final grade: B+
Teacher's notes: The stats suggest Garnett was insanely consistent from start to finish this season. Just look at his season splits, which are almost identical pre- and post-All-Star break (in fact, his shooting percentage only improved from the field and free throw line). Despite a slight drop in his defensive rebounding rate, which had hovered around a career high early in the season, Garnett still finished fourth overall in the league at 28.7 percent. What's more, Garnett finished second in the league behind only Dwight Howard in defensive rating (95). So why wasn't this an 'A' season? Call us a harsh grader because, like Paul Pierce's B+ season, we do think Garnett deserves consideration for the team's MVP this season. But we lean heavy on expectations and salary level. It's hard for the third highest paid player in the NBA -- only Kobe Bryant ($24.8 million) and Rashard Lewis ($20.5 million) made more this season -- to justify an 'A' grade. And let's face it, Garnett isn't nearly as impactful on the offensive end as he was during the 2008 season and struggled to shoulder the load against Miami.
What's next?: Garnett enters the final year of the three-year extension he inked upon being traded to Boston and will earn a staggering $21.2 million for his services. Even after turning 35 years old last week, Garnett remains the backbone of this Celtics' defense and remains a key to the team's overall success. Coach Doc Rivers admitted that he needs to find a way to better utilize Garnett, which should lead to shorter bursts of activity next season (and probably a slight decrease in minutes overall).
Honor roll: Click HERE to read past report cards.
Don't agree with teacher? Just want to sound off on Garnett's 2010-11 season? Leave your thoughts in the comments section.