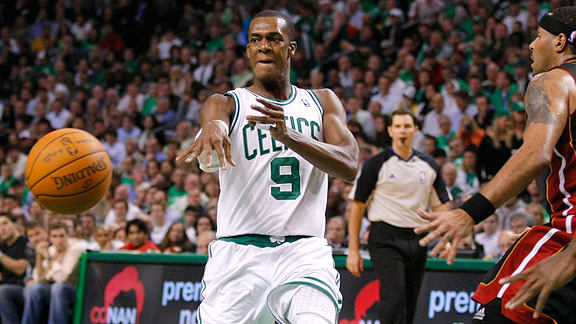 David Butler II/US Presswire
Injuries might have slowed Rajon Rondo after an amazing start to the 2010-11 season.Over the next few weeks, we'll take a player-by-player look at the Celtics' 2010-11 roster and how each player's season unfolded, assigning a grade for their overall performance. This is the eighth in the series of report cards:
Player: Rajon Rondo
2010-11 averages: 10.6 points, 11.2 assists, 2.3 steals
2010-11 salary: $9.1 million
Season in a paragraph: Rondo was otherworldly out of the gates, handing out 15 or more assists in four of Boston's first five games (and seven of its first 10 overall), including 17 dimes on opening night against Miami and 24 against the Knicks three nights later. That quick start earned him the season's first Eastern Conference Player of the Week honor and put him on pace to shatter John Stockton's single-season assist record. Nagging injuries and a lineup without a consistent center caused those stats to come back to Earth as the season progressed and Rondo ultimately finished second behind Phoenix's Steve Nash in assists per game. The 25-year-old Rondo earned some serious stripes playing through the pain of a dislocated elbow -- and a balky back -- during the playoffs, on top of the injuries he endured through the season.
Season highlight: Good luck picking a single moment. Those 24 assists against New York were part of a triple-double that featured 10 points and 10 rebounds. But it wasn't a great shooting night for Rondo, who also turned the ball over seven times. How about 23 assists in another triple-double effort against San Antonio in early January? Rondo had 12 points on 6-of-10 shooting with 10 rebounds and only five turnovers in a battle of conference juggernauts. Or there was his lone playoff triple double: 15 points, 20 assists, and 11 rebounds in a 113-96 Game 3 win over the Knicks that doubled as an offensive clinic by Boston.
Season lowlight: Rondo's ability to be an impact player -- and Boston's championship aspirations -- were likely dashed when he dislocated his left elbow tumbling to the ground with Dwyane Wade in the third quarter of Game 3 of an Eastern Conference semifinal series against the Heat. Rondo returned to the floor and not only played the entire fourth quarter of Boston's lone series win that night, but gutted out Games 4 and 5 with basically one arm. Combined with the back issues, Rondo wasn't nearly the force Boston needed him to be in order to get past Miami.
Final grade: B+
Teacher's notes: Believe me, we're sick of handing out all these B+'s. But like Big Four brethren Paul Pierce and Kevin Garnett, who earned the same mark, Rondo did a lot of things well, but little things dragged his grade down from 'A' level. For instance: Rondo's field goal percentage dipped from a career-high 50.8 percent in 2009-10 to 47.5 percent this year (his lowest since his rookie season). What's more, Rondo's free throws plummeted to a career-low 1.9 attempts per game (down 1.6 free throw attempts from the previous season). And his turnovers climbed to a career-high 3.4 per game while his scoring average dipped 3 points per contest. Some of this can surely be blamed on plantar fasciitis and the other maladies Rondo battled, forcing him to sit out 14 games this season. One silver lining: For all the belly-aching about Rondo's lack of a consistent mid-range jumper, he shot a solid 41 percent from 16-to-23 feet, according to HoopData, and took a career-high 3.3 attempts there per game (up one full shot from a year ago). Rondo's scoring struggles stemmed more form an inability to get to the rim (his attempts there were down from 5.4 per game in 2009-10 to 4.3 this season) and he generated less free throws because he attacked the basket less.
What's next?: With the first year of a five-year extension behind him, Rondo is still inked for four seasons at a steal of a rate (his contract topping out at $12.9 million during the 2014-15 season). He's the foundation upon which the next Celtics core will be built, as he, Pierce, and Avery Bradley are the only players currently signed beyond the 2011-12 season. A summer to recuperate should do wonders for Rondo, who was a warrior on the court and never leaned on injuries. Celtics coach Doc Rivers pointed out how, when both Rondo and Shaquille O'Neal were healthy, the Celtics were thriving and Rondo's stats were off the charts. It's no surprise that Boston struggled as both players limped to the finish line.
Honor roll: Click HERE to read past report cards.
Don't agree with teacher? Just want to sound off on Rondo's 2010-11 season? Leave your thoughts in the comments section.