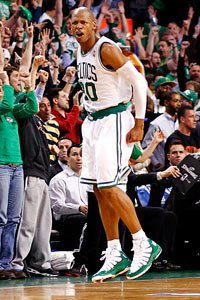 Greg M. Cooper/US Presswire
Ray Allen had reason to exult throughout the 2010-11 season.Celtics guard Ray Allen might be set to turn 36 this offseason, but if he taught us one thing this past season, it's that his age cannot be associated with his production. The 14th-year shooting guard still moved around the floor like a star in his mid-20s, always had that extra gear in him when he decided to rise up for a baseline dunk, and continued to be one of the league's finest 3-point marksmen.
In fact, Allen finished the season having shot a career-high 44.4 percent from 3-point nation, far and away the highest mark of anyone on the Celtics' roster (and good for second overall in the NBA behind the San Antonio Spurs' Matt Bonner at 45.7 perent). In the playoffs, Allen was even deadlier from behind the arc, as he converted 57.1 percent of his looks from beyond the arc.
Here's a look back at five of Allen's best 3-point shooting performances of the season in chronological order:
Oct. 26: Celtics 88, Heat 80 -- 3pt: 5 of 8 (62.5%)
With Kevin Garnett struggling from the field and Paul Pierce making do with only seven total field goal attempts, Allen stood out as the offensive catalyst for the Celtics in their opening night victory over the Heat. Allen knocked down five of his eight 3-point field goal attempts, en route to a 20-point evening. While his first four came in the opening three quarters, Allen saved his final one for the final minute, burying a look from the left corner off of a feed from Pierce with 49 seconds left, transforming the Celtics' slim three-point lead into a much more comfortable six-point advantage.
Nov. 22: Celtics 112, Heat 107 -- 3pt: 7 of 9 (77.8%)
Looking to prove their opening night victory over the Heat in Boston wasn't some sort of first-game fluke, the Celtics trekked to South Beach and extinguished the Heat's flame once again. This time around Allen nearly doubled his point total from the first meeting, finishing with a game-high 35 points thanks to some dead-eye shooting from distance. Allen knocked down the first seven 3-pointers he attempted against the Heat, walking away with a 7-of-9 showing from long range. Three of Allen's trifectas came in the second quarter, the first of which gave the Celtics a 12-point advantage, while the second and third helped push Boston's lead all the way to 17. His final 3-pointer at the 7:03 mark of the fourth frame stretched a 10-point Boston lead back to 13.
Feb. 10: Lakers 92, Celtics 86 -- Allen breaks Miller's NBA record
Statistically, Allen had many finer 3-point performances prior to February's showdown against the Lakers, but when he converted his second one of the game he stepped past Reggie Miller and became the NBA's all-time leader in 3-pointers made. His 3-of-8 showing from distance in this game won't wow too many people, but Allen's record-setting mark certainly will. Allen came out firing and the anticipation level was ratcheted up 100 extra notches after he buried his first 3-pointer of the evening, tying Miller's mark of 2,560 career 3-pointers less than eight minutes in. And the roof of the TD Garden threatened to come off when the crowd erupted when Allen buried the record-breaking 3-pointer from the right wing in transition off of a feed from Rajon Rondo.
Feb 19: Allen scores 20 in first-round of 3-point contest
Ray Allen took home the 3-point shooting crown back in 2001, but hadn't competed in the contest since 2006. That five-year break ended thanks in part to some healthy competition with teammate and reigning champion, Paul Pierce. Allen showed no rust early on, breaking out of the box and besting all of his competitors in the first round with a scorching score of 20 (out of 30 possible points). Unfortunately, Allen couldn't harness his hot hand in the final round, finishing third with 15 points behind Pierce (18) and the 2011 champ, James Jones, who matched Allen's first-round score of 20 to steal the crown.
April 22: Celtics 113, Knicks 96 (Game 3) -- 3pt: 8 of 11 (72.7%)
As opposed to sparking the injury-ridden Knicks in their first home playoff game in seven years, the hostile atmosphere at Madison Square Garden in Game 3 of the Eastern Conference quarterfinals brought out the best in the Celtics, particularly in Allen and Pierce. The duo put on a 3-point shooting showcase, combining for 70 points while knocking down 14 of 19 3-point field goal attempts between them. Allen converted 8 of 11 attempts from distance (72.7 percent), spreading the wealth evenly by knocking down four in each half. While historic shootouts usually occur between opponents, on this night, it was Pierce and Allen matching each other bucket for bucket, unleashing a blistering string of long-range bombs that sent the MSG crowd to the exits and propelled Boston to a decisive 3-0 series lead.
Greg Payne is a student intern for ESPNBoston.com