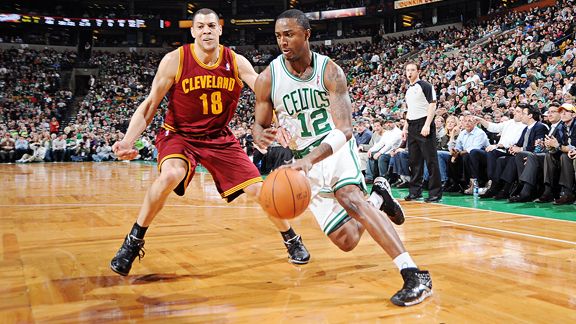 Brian Babineau/NBAE/Getty Images
Von Wafer had his moments -- good and bad -- during the 2010-11 season with Boston.Over the next few weeks, we'll take a player-by-player look at the Celtics' 2010-11 roster and how each player's season unfolded, assigning a grade for their overall performance. This is the 13th in the series of report cards:
Player: Von Wafer
2010-11 averages: 3.2 points, 0.8 rebounds, 0.6 assists
2010-11 salary: $854,389
Season in a paragraph: Nothing came easy for Wafer this season. From fending off furious charges in training camp to earn a final roster spot, to an early season scuffle with teammate Delonte West, to an ill-time calf injury as he was playing some of his most inspired ball of the season, it was a never-ending grind just to stay on the court for a player that was with his seventh NBA team in his six seasons (with a Greek flirtation mixed in). Wafer never quite developed into the X-Factor that Paul Pierce suggested before the season he had potential to be, but provided serviceable depth at the wing position.
Season highlight: When Marquis Daniels suffered the frightening spine injury in early February that ended his season, Wafer got thrust into a larger role as Pierce's primary backup. During a nationally televised blockbuster against the Heat on Feb. 13, Wafer chipped in 10 points on 4-of-5 shooting, hitting a pair of 3-pointers, while adding 2 rebounds and 2 steals over 14 minutes in an 85-82 triumph at TD Garden. Wafer played steady minutes through the month until ...
Season lowlight: Despite erupting for seven points in five minutes during a visit from the Golden State Warriors on Feb. 4, Wafer landed awkwardly while trying to chase Golden State's Monta Ellis on a layup with 10:29 to play in the second quarter. He immediately grabbed at the right calf, then hobbled off the court and straight to the locker room. He'd sit out the next 13 games and played a total of seven minutes in his first seven games back before earning a pair of starts as Boston rested its starters to close out the regular season. (Dishonorable mention: A blown dunk in the Washington game that was maybe the most head-shaking moment of the season).
Final grade: C+
Teacher's notes: The Celtics were hoping for 2008-09 Wafer, who averaged career highs of 9.7 points per game and shot 39 percent beyond the 3-point line while helping the Rockets into the postseason. Instead, Boston got non-2008-09 Wafer, a player that appeared in just 75 games during his first three NBA seasons and had little impact on the final box score. To his credit, Wafer, who deadpanned that he had heard about his poor defensive reputation on the first day he met the Boston media in August, bought into Boston's defensive-first mentality and that eventually helped him get on the court. But Wafer shot a mere 26.9 percent beyond the arc in Boston and mostly thrived going at the rim. Once Jeff Green was brought in, Wafer fell on the depth chart and logged only five minutes in two appearances in the postseason.
What's next?: Wafer is an unrestricted free agent and seems destined to extend that journeyman status for a chance to play somewhere that can offer him more minutes. The Celtics would seemingly have some interest in keeping him around for low-cost, perimeter depth and he showed quality glimpses. But with Pierce and Green in place, his minutes would remain limited here.
Honor roll: Click HERE to read past report cards.
Don't agree with teacher? Just want to sound off on Wafer's 2010-11 season? Leave your thoughts in the comments section.