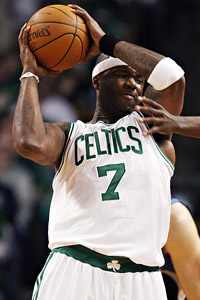 Elsa/Getty Images
Jermaine O'Neal battled through injuries to get on the court when it mattered most.Jermaine O'Neal saved his best performances for the final part of the Celtics' season, if not necessarily by choice.
Mid-season surgery on an ailing left knee left O'Neal out of the picture for months, before an uncertain return gave way to some memorable postseason production. Despite his lengthy absences during the regular season, O'Neal contributed mightily in the opening round of the playoffs against the New York Knicks and fought valiantly through a left wrist injury that Celtics president of basketball operations Danny Ainge said will require offseason surgery, as well as a stiff lower back that limited his mobility against the Miami Heat.
Here's a look back at five memorable moments from O'Neal's season:
Nov. 3: Celtics 105, Bucks 102 -- O'Neal helps C's hold off Bucks in OT
O'Neal spent the first two weeks of the regular season battling through left knee and left wrist woes that ultimately derailed his ability to produce during much of the 82-game regular-season slate. But while he was clearly laboring some nights, on others he was still showing signs of being the impactful player the Celtics were hoping he would be when they signed him to the mid-level exception during the summer. In the Celtics' 105-102 overtime victory over the Milwaukee Bucks early in November, O'Neal put in five points, pulled down seven rebounds, and blocked four shots before fouling out with a little over a minute remaining in the extra period. But just before he fouled out for good he managed to tip in a missed layup by Ray Allen, which gave the Celtics a vital 97-95 lead that helped them escape with their third consecutive victory.
Feb. 4: O'Neal undergoes left knee surgery
After an initial flirtation with a knee-strengthening rehab, O'Neal relented to arthroscopic surgery on his ailing left knee, with Ainge announcing after the team's 101-97 loss to the Dallas Mavericks that O'Neal would go under the knife. A 6-8 week timetable pegged him for a late-March/early-April return, but doubts about his ability to contribute in the postseason set in almost immediately. Roughly three weeks prior to the announcement, O'Neal himself questioned whether an operation so late into the campaign would hinder his playoff production, which didn't do much to inspire confidence. Despite Ainge's proclamations that O'Neal would return healthy by the end of the season and that the C's were going to count on him in the playoffs, at the time, he might as well have announced his season was over for good the way most viewed his potential return.
March 31: O'Neal returns vs. Spurs as Krstic goes down
The doubts that had set in when O'Neal went under the knife weren't immediately erased when his return date was penciled in. Just because he'd be back on the floor didn't necessarily guarantee he'd be back to being the player the Celtics needed him to be. There were questions about whether he was even that player at the start of training camp when he was relatively healthy. But considering Kendrick Perkins had been traded and Shaquille O'Neal was still on the shelf, the C's needed whatever Jermaine could give them in the middle, and that became even more necessary when Nenad Krstic went down with a bone bruise in his right knee late in the first half of the Celtics' 107-97 victory over the Spurs. O'Neal's return wasn't meant to be over-analyzed considering the lengthy absence he was coming off of, but overall, he played well, hitting both of his shots on the way to five points, a rebound, and an assist in 11 minutes. His minutes soon ramped up from there.
April 11: O'Neal plays 37 minutes in the Celtics' overtime loss to Washington
With Doc Rivers electing to rest his starters during the final two games of the regular season, O'Neal not only got an opportunity to play his most minutes of the season, putting in a high of 37 in the Celtics' 95-94 overtime loss to Washington, but requested the heightened workload to test his knee before the postseason. O'Neal shot just 6-of-15 from the floor, finishing with 15 points, but he had one of his best defensive outings, hauling in 13 rebounds while blocking five shots. While the production was impressive, the real test for O'Neal came after the game was over. How exactly would his left knee respond after he played more minutes in one game than he had in the previous three games combined? The answer? Great. O'Neal experienced no lingering soreness or swelling in the knee after his lengthy outing, and when Rivers held him out of the team's regular-season finale two nights later against the Knicks, it was strictly for general rest and recovery, which allowed O'Neal to gear himself up for the postseason.
April 17: Monster playoff debut vs. Knicks
With his left knee finally healthy and able to endure playing consistent minutes, O'Neal thrived as the Celtics' starting center in the playoffs. In Boston's very first game against the New York Knicks O'Neal was a presence on both sides of the ball, blocking the shots of Amare Stoudemire and Carmelo Anthony, drawing crucial charges, and converting clean-up looks around the rim. During a memorable third-quarter stretch he registered six points, grabbed an offensive rebound, blocked two shots, and took a charge, and followed it up in the fourth quarter by drawing a crucial charge on Stoudemire, then blocking a Ronny Turiaf layup bid, and finally converting a putback that tied the game at 82 with just over a minute left. O'Neal finished with 12 points on 6-of-6 shooting to go along with four rebounds and four blocked shots, along with two charges taken. Without his efforts, Boston doesn't win Game 1.
Greg Payne is a student intern for ESPNBoston.com