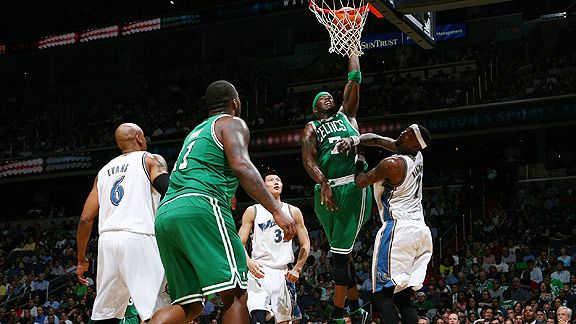 Ned Dishman/NBAE/Getty Images
Jermaine O'Neal turned out to be a key postseason contributor despite injuries.Over the next few weeks, we'll take a player-by-player look at the Celtics' 2010-11 roster and how each player's season unfolded, assigning a grade for their overall performance. This is the 14th in the series of report cards:
Player: Jermaine O'Neal
2010-11 averages: 5.4 points, 3.7 rebounds, 1.3 blocks
2010-11 salary: $5.8 million
Season in a paragraph: For his first six months in Boston, the Celtics couldn't keep O'Neal on the court. There was a left hamstring injury in training camp, a left wrist injury in the preseason, and -- most importantly -- the left knee issues that sacked him from 56 regular-season games (nearly 70 percent of the campaign). But after relenting to left knee surgery in early February, O'Neal was able to get back on the floor and stay there from March 31 through the playoffs (this, despite playing through back stiffness and further injuring his wrist in the postseason to the point where he'll need offseason surgery to fix a fracture).
Season highlight: Considering how many people wrote him off as went in for surgery in February, it had to be redeeming for O'Neal to not only serve as the team's starting center throughout the postseason, but be the sort of contributor he was in Round 1 against the Knicks. O'Neal might have peaked in the playoff opener, scoring 12 points while making all six shots he attempted to go along with four rebounds and four blocks over 22:34. What's more, O'Neal took a pair of second-half charges, which might have helped change the complexion of the game and allowed Boston to rally late for a win that ignited a four-game sweep.
Season lowlight: Even in his finest Boston moment, O'Neal was intertwined with injury. While taking one of those key charges in Game 1, O'Neal landed on the already ailing left wrist and grimaced as he walked off the court, aggravating an injury that already featured torn cartilage from absorbing a preseason charge in Toronto. Celtics president of basketball operations Danny Ainge later revealed that O'Neal had the fracture in his wrist, which undoubtedly limited him a bit -- even if he never used it as a crutch -- the rest of of the postseason.
Final grade: C
Teacher's notes: While most of his teammates watched their grades dip late in the season and into the playoffs, O'Neal did the exact opposite, climbing a full letter grade from our midseason report card (and even then people thought that mark was too generous). O'Neal might not have been able to sustain the impact he had in Game 1 of the Knicks series -- Boston doesn't win that game without him -- but O'Neal was able to stay on the floor and provided a steady presence. For the postseason, he averaged 5.8 points, 4.2 rebounds, and 1.7 blocks over 21.9 minutes per game. Celtics coach Doc Rivers often asked if a player could get healthy and made a postseason impact, would you forget his regular-season ordeals? Guys like O'Neal and Delonte West used strong postseason play to help mask the fact that they struggled to stay on the floor during the regular season.
What's next?: O'Neal is under contract in Boston for one more season at $6.2 million (this after signing a 2-year deal at the full mid-level exception last summer). While he admitted he'd take some time to evaluate his future -- even at just 32 years old, he's got a lot of NBA miles on his tires -- his strong play at season's end probably ensure he's back with the Celtics' core looking for the world title that enticed him to come to Boston in the first place. The bigger question is for management: Can Jermaine O'Neal be your starting center next season? Regardless of the number of games next season with a potential lockout looming, but particularly if it's the usual 82, it's hard to imagine O'Neal's health holding up for the duration.
Honor roll: Click HERE to read past report cards.
Don't agree with teacher? Just want to sound off on O'Neal's 2010-11 season? Leave your thoughts in the comments section.