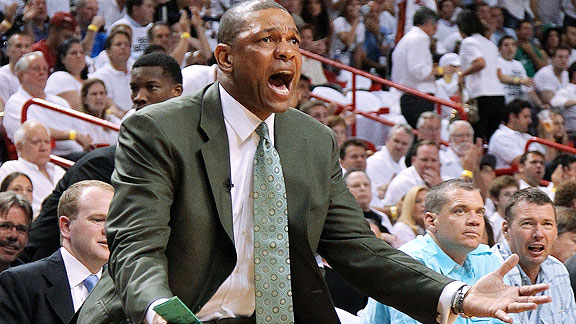 Mike Ehrmann/Getty Images
Celtics coach Doc Rivers doesn't agree with a call during a playoff game in Miami.Over the next few weeks, we'll take a player-by-player look at the Celtics' 2010-11 roster and how each player's (and, in this case, coach's) season unfolded, assigning a grade for their overall performance. This is the 15th in the series of report cards:
Coach: Doc Rivers
2010-11 salary: $5.5 million
Season in a paragraph: After giving thought to walking away from the Celtics' bench in order to spend more time with his family, Rivers returned this season on a one-year deal. That helped Boston keep its core intact entering the 2010-11 campaign, but injuries, particularly at the center position, kept Rivers' lineups in constant flux, and he did a rather amazing job just keeping this ship steady as Boston boasted a 46-15 record before the sail ripped off a bit in the final month of the regular season.
Season highlight: Rivers has slowly earned a reputation as the Czar of the Dry Erase Board and that was on full display during the opening round of the playoffs against the New York Knicks. In both Games 1 and 2, Boston needed some of his late-game magic to help the Celtics escape with wins. As Kevin Garnett, who would hit the key basket in Game 2, bottom-lined it about Rivers' play-calling talents in the aftermath of the Game 1 triumph: "He's the best."
Season lowlight: Already peeved about having to play a travel-unfriendly second night of a back-to-back in Phoenix in late January (this after playing the night before in Portland), Rivers quickly grew infuriated with the officiating, particularly that of Steve Javie, and earned his only ejection of the year with 4:33 remaining in the first half against the Suns. Making matters worse, Rivers got fined $15,000 for failing to leave the court in a timely manner. The The Celtics were tagged with six technical fouls in that game and both Rivers and Garnett were ejected. It was also one of Boston's most lopsided and ugly losses of the season with Phoenix prevailing, 88-71.
Final grade: A-
Teacher's notes: Pundits will make the usual claim that, "Anyone can coach a team with the Big Four on it." Sure, that makes Rivers' job on the court easier (even if most of us know that managing superstar egos is no small task). But much like the 2009-10 season, Rivers was tested by injuries that limited Rajon Rondo and Garnett at times this season and Boston didn't really have a starting center in place until late March (and who would have thought it would be Jermaine O'Neal at that point?) Maybe the only true gripes you can present about Rivers this season: He never figured out how to get the most out of trade acquisition Jeff Green (expect that to be remedied if Green is back next season) and his rotations continued to be a little too tight, Rivers leaning on his stars throughout the season and maybe taking a little too much gas out of their tanks by season's end.
What's next?: With rumors still swirling about whether he'd finally take a coaching sabbatical, Rivers surprised many by inking a five-year, $35 million extension this offseason that guarantees he'll be around for not only one more rodeo with the Big Three next season, but through the rebuilding/reshaping process that should follow. Given Boston's success over the past four seasons, Rivers has elevated to among the league's coaching elite and his presence alone gives players a reason to consider Boston as a destination (heck, Shaquille O'Neal cited it as reason No. 1 he was willing to ink a league-minimum deal last summer). As Celtics president of basketball operations Danny Ainge announced the extension earlier this month, he couldn't hide the joy in having a franchise coach to guide Boston through whatever lies ahead. "The most important thing is that we have a really good coach for years to come," said Ainge. "That's exciting."
Honor roll: Click HERE to read past report cards.
Don't agree with teacher? Just want to sound off on Rivers' 2010-11 season? Leave your thoughts in the comments section.