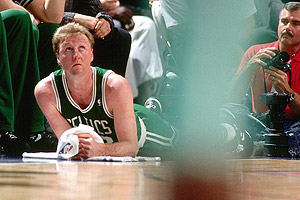 Nathaniel S. Butler/NBAE/Getty Images
Larry Bird watches from the sideline in some of his final playing days with the Celtics.After all that hubbub about whether it was fair to compare Mavericks forward Dirk Nowitzki to former Celtics forward Larry Bird, it turns out Larry Legend was actually honored by it all:
[Mavericks coach Rick] Carlisle has gone to great lengths during Nowitzki's playoff surge to dismiss longstanding and increasingly frequent comparisons between the two, noting that Nowitzki is nearly three inches taller and plays mostly as a power forward, while Bird operated as a small forward for the bulk of his career.

Bird, though, acknowledged in a phone conversation Tuesday before Game 1 of the Finals that he does see "a lot of similarities."

"He's had a great run (in the playoffs), but I've always been very impressed with him," Bird said. "His work ethic, his loyalty to his country. It's really an honor for me to have people compare us.

"He rebounds. He plays at his own pace. He sort of controls the tempo on offense. It'd be nice to be 7 foot and when they run plays and switch (defenders) on him, it doesn't bother him at all. He can see over everybody.

"He's got the step-backs. He gets to the rim. The difficulty of some of the shots that he makes ... one thing about him is that he's always got great balance. His shot looks like he's falling away, but he's got a lot of balance when the shot goes up.

"I understand (the comparisons). I've always felt it's an honor when they compare anyone to me, because I haven't played ball for 20 years."
Check out the full article for more from Bird, including the fact that you might be able to take him in a game of H-O-R-S-E nowadays.