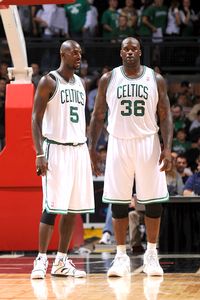 Steve Babineau/NBAE/Getty
Kevin Garnett and Shaquille O'Neal together during the preseason.Maybe no player enjoyed the presence of Shaquille O'Neal on the Celtics' roster this year more than Kevin Garnett. After years of head-to-head battles, Garnett took great pride in the opportunity to play alongside O'Neal, who he affectionately referred to as "Big Fella" throughout the 2010-11 season.
With the help of KG's representatives, Garnett provided the following statement to ESPN on Shaq's retirement Wednesday:
"It was a pleasure to play with the Big Fella. It was most definitely a life experience. My big brother from a different mother. It's love all day and I wish him nothing but the best. The game's gonna miss you. Look out world, here comes Shaq."
The presence of O'Neal allowed Garnett to let his guard down this past season and savor the season a bit more than maybe he previously had.