During the slower times during the offseason (of which there could be many in a potential lockout bummer summer), we'll occasionally reach into our Celtics Mailbag and pull out a question to field in the blog. Hop HERE to submit a question: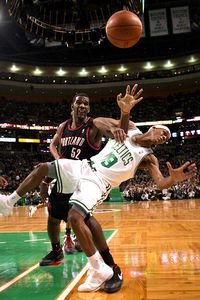 Elsa/Getty Images
Greg Oden tosses Rajon Rondo aside during a Portland visit.Q: With the retirement of Shaquille O'Neal and the departure of Nenad Krstic, the 5 position is very thin with the oft-injured Jermaine O'Neal and an aging Kevin Garnett. What is the possibility of the Celtics acquiring a true center, one with much more production capability than Kendrick Perkins? Is there the possibility of Greg Oden playing for the Celtics? It is rumored that he will be released by Portland. If they gambled on Shaq, why not gamble on Oden. -- Joel (Ottawa, Canada)
A: Cracking open the 'Bag for the first time since the days after Boston's season ended last month, I was surprised by how many Oden questions were sitting there. Maybe I shouldn't have. The Celtics are suddenly Chris Johnson thin (Boy, it sure would be nice to have him on the roster now, eh? More on that later) up front and everyone's sort of wondering how Celtics president of basketball operations Danny Ainge will retool that group. We might not know for sure until there's a new collective bargaining agreement in place, but clearly Boston is in the market for some big bodies. But probably not Oden's.
I'd be very surprised if the Trail Blazers don't at least tender a qualifying offer ($8.8 million) to bring Oden back for the 2011-12 campaign (Just yesterday, Doc Rivers said, "There's only so many 7-footers on Earth and half of them can't play.") Yes, Portland already has a lot of money committed next season (roughly $73.8 million, including its qualifying offers), so the ability to essentially wipe $9 million off the books by letting Oden become an unrestricted free agent would be enticing. Alas, he's still a No. 1 overall pick who, despite being limited to one season's worth of games in his career (82 games, 1,816 total minutes), averaged 11.1 points and 8.5 rebounds per game the last time was able to get on the court during the 2009-10 season. It's likely going to take more than cap relief for the folks in Portland to wash their hands of what they thought was a franchise player back in the 2007 draft.
If the Blazers extend that qualifying offer, there's virtually no chance Boston can obtain Oden (unless you're willing to later deal away someone with a similar salary and only Ray Allen and Rajon Rondo are in the ballpark. No? Didn't think so). Boston's only legitimate chance at Oden would come if the Blazers did not submit a qualifying offer and allowed him to become an unrestricted free agent. Then the Celtics could (next CBA willing) extend a multi-year offer utilizing their mid-level exception (about the only real money they have to spend under the current agreement).
Now, if there's a center currently on the Trail Blazers' roster that the Celtics might covet and have a legitimate shot at hauling in, it'd be Johnson, who latched on with Portland after a 10-day stint with Boston this season. Here's the tough part: In a shrewd move similar to what Boston did during the 2009-10 season when it hooked Oliver Lafayette and Tony Gaffney at the end of the regular season, Portland didn't just ink Johnson for the rest of the 2010-11 season, it added a non-guaranteed deal for next season. That means he'll (lockout notwithstanding) spend the summer in Portland's system and have a shot to earn a job there in training camp.
Ironically, Boston had Johnson in its training camp last year before waiving him. He went on to shine in the D-League before the Celtics brought him in on a 10-day contract at the trade deadline to fill the void up front when the team dealt away Kendrick Perkins and Semih Erden in separate deals. Boston had interest in keeping Johnson around on at least another 10-day deal, but elected instead to sign veteran point guard Carlos Arroyo to add depth behind ailing Rajon Rondo.
The Trail Blazers can keep Johnson for the thrifty price tag of $788,872 next season, but if they cut ties before the season, don't be surprised if the Celtics give consideration to adding him back to their bench. Rivers raved about Johnson's upside and noted before he left the team, "If we can figure out a way to get him on [Big] Baby's weight program, he'd be terrific."