Draft profile: Keith Benson
June, 11, 2011
6/11/11
8:24
AM ET
By
Greg Payne
| ESPNBoston.com
The fifth in a series of profiles of players that might be of interest to the Boston Celtics during the 2011 NBA Draft (June 23, Newark, N.J.):
Benson showed steady improvement at Oakland, peaking in his senior season by averaging 17.9 points and 10.1 rebounds per game. He shot 54.7 percent from the field and averaged a whopping 3.6 blocks per game. From
ESPN's player evaluation
: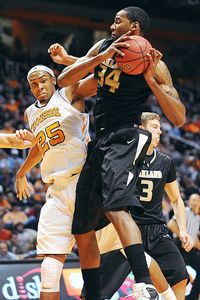 Don McPeak/US PresswireOakland's Keith Benson wrestles away a rebound.
Projection:
Second round
Positives:
Long, lanky big man... Excellent athlete... Runs the floor really well... Good quickness and leaping ability... Good shooter with range out to 18 feet
Negative:
Lacks strength and toughness... Not a great motor, takes plays off... Can't defend his position... Lack of strong competition
Ford's analysis:
"The Good: Benson is another great athlete who runs the floor well and shows excellent quickness and athletic ability for a big man. He's a very good shot-blocker, rebounder and even has a face-the-basket game out to about 15 feet. The Bad: He lacks strength to play in the post. He can get a bit lazy at times and doesn't always engage every play. He struggled to defend stronger players in the paint. The Upside: Scouts have wanted to write him off for two seasons, but Benson has been too good to ignore. Oakland has played a number of tough opponents, and Benson has produced. If he can do it on the biggest stage, he could easily move into the first round. There just aren't many big men in this draft."
In the news
: From the
Detroit Free Press
: "[Benson] had to show that, despite weighing only 217 pounds, he can be an impressive frontcourt player at the highest level. And he was out to prove that his ceiling is still much higher. "I think -- skill wise -- I'm a finished product, but I need to gain some strength to play right now," Benson said this week at the Chicago Westin hotel for the predraft combine interviews..."You get to go one on one with other competitors and it's not about your school anymore, it's about your performance," Benson said. "It's the competitive aspect of it. I feel like I'm on their level. I think I'm right up there with the highest-rated (big men)."
Payne's take:
It's no secret the Celtics are pursuing a young big man, and as much as Danny Ainge would love to see Benson fall all the way to No. 55, it's tough to imagine an intriguing (almost) 7-footer sliding so far in what's been deemed a weaker draft. The Celtics were scheduled to work out Benson along with several other big man prospects in their first pre-draft workout back on June 1, so the interest is definitely there. If on draft night the C's have their sights set on Benson, they can resort to selecting him with their first-round pick (No. 25 overall) or try to move back a bit and land an earlier second-round pick while hoping Benson is still on the board at that point.
Greg Payne is a student intern for ESPNBoston.com
PODCASTS
Bill Simmons, NBA
Play Podcast Grantland's Bill Simmons discusses the state of the Lakers, Phil Jackson's future, the perception of Rajon Rondo, Doc Rivers' impact on the Clippers and more.
Baseball Tonight
Play Podcast Buster Olney chats with Jayson Stark about Ken Griffey Jr.'s uncomfortable interview with Linda Cohn and the value of spring training. Plus, Mike DiGiovanna on the Angels and Derrick Goold on Matt Carpenter's negotiations with the Cardinals.
John Farrell, Red Sox
Play Podcast Red Sox manager John Farrell talks about whether he expected his team to make such a turnaround in one season, his relationship with his players, fans' expectations for the squad and more.