Draft profile rundown
June, 23, 2011
6/23/11
8:00
AM ET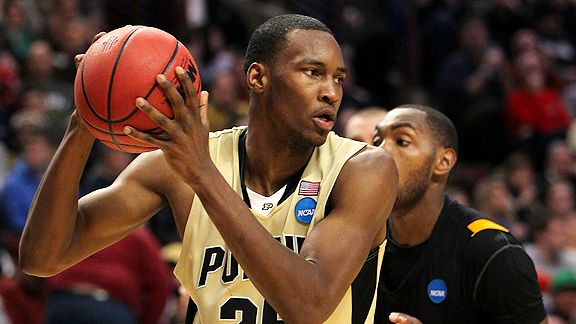 Jamie Squire/Getty ImagesCould Purdue's JaJuan Johnson be Boston's pick at No. 25 on Thursday night?
Over the past two weeks, we profiled a group of players that the Celtics could potentially target in Thursday's draft. Here's a helpful rundown:
THE BIGS
Nikola Vucevic, 7-0, 260 lbs., USC
Jeremy Tyler, 6-11, 263 lbs., Tokyo Apache
Kenneth Faried, 6-8, 225 lbs., Morehead State
Justin Harper, 6-9, 228 lbs., Richmond
JaJuan Johnson, 6-10, 220 lbs., Purdue
Jon Leuer, 7-0, 223 lbs., Wisconsin
Jordan Williams, 6-9, 247 lbs., Maryland
Trey Thompkins, 6-10, 239 lbs., Georgia
Malcolm Thomas, 6-9, 223 lbs., San Diego State
Greg Smith, 6-10, 253 lbs., Fresno State
Keith Benson, 6-11, 217 lbs., Oakland
THE OTHERS
PG Malcolm Lee, 6-6, 198 lbs., UCLA
PG Norris Cole, 6-2, 175 lbs., Cleveland State
PG Reggie Jackson, 6-3, 208 lbs., Boston College
SG Marshon Brooks, 6-5, 195 lbs., Providence
SF Jimmy Butler, 6-8, 222 lbs., Marquette
SF Kyle Singler, 6-9, 228 lbs., Duke
So, armchair general managers, who's your preferred pick (and who will legitimately be available at pick No. 25)? Is this so-called "weak" class leaving you scrambling for a trade? Sound off in the comments.
PODCASTS
Adam Schefter, NFL
Play Podcast ESPN NFL Insider Adam Schefter weighs in on the Panthers' WR situation, Julian Edelman's future with the Patriots, Vince Wilfork's decision to ask for his release and more.
Spanning the Globe: 3/13
Play Podcast "Spanning the Globe" features ESPN Boston's Mike Reiss, Yahoo! Sports' Eric Edholm and ESPN LA 710's Mark Willard.
John Farrell, Red Sox
Play Podcast Red Sox manager John Farrell talks about whether he expected his team to make such a turnaround in one season, his relationship with his players, fans' expectations for the squad and more.