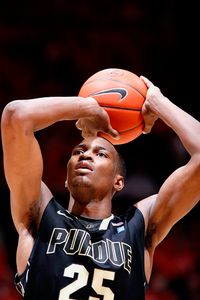 Joe Robbins/Getty Images
Don't sleep on JaJuan Johnson's offensive talents.One of the areas that the Boston Celtics have been lacking in over the past two seasons has been bench scoring. It's been part of the reason they've made trade deadline deals each of the last two years, looking to find a player capable of providing an offensive spark off the pine.
Even entering the offseason this year, Celtics coach Doc Rivers admitted his team needed to load up on shooting, pointing to how the Dallas Mavericks were able to topple the Miami Heat in the NBA Finals in part because of how much shooting talent they possessed. Miami's defense is quick to the ball and smothering, but was neutralized in part by Dallas' ability to consistently connect on perimeter jumpers.
So when Providence's MarShon Brooks was still on the board when the Celtics went on the clock at No. 25 in Thursday's NBA Draft, there was a strong groundswell among some observers to pick the Providence College scoring machine. Brooks averaged 24.6 points per game, second highest in the nation behind only BYU's Jimmer Fredette, and some thought he'd be an ideal backup shooting guard with potential to provide that bench spark.
But here's what some are missing: The Celtics maneuvered down and got a player at No. 27 with just as much offensive potential in JaJuan Johnson.
Maybe it's because his stats aren't quite as glitzy, but Johnson was an accomplished scorer, averaging 20.5 points per game last season, 18th best in the nation. What's more, he ranked seventh nationally in total field goals made (257), only 19 buckets behind Brooks (who did play two less games, but the two players in front of Johnson -- Duke's Nolan Smith and Iona's Mike Glover -- scored only three more field goals in three extra games apiece).
Johnson shot 49.4 percent from the floor last season, but that number was as high as 54 percent as a sophomore and 50.7 percent as a junior. Not bad for a player whose mid-range game often pulls him away from the basket. Combine a 6-foot-10 player with his explosive leaping ability and he's tough to get a hand in front of away from the paint.
Maybe that's why the first thing out of Doc Rivers' mouth on Thursday when asked what Johnson brings was, "A shot." The Celtics like the offensive spark Johnson has the potential to provide. While Glen Davis drew some ire for his shot selection, particularly the amount of attempts away from the basket, the Celtics believe that's where Johnson has potential to thrive.
"Pick-and-pop, he's a terrific shooter for his size and [is] extremely athletic," Rivers said of Johnson. "We've proven we can get bigs shots and, so, we can get him shots and he'll make them... I hate labeling him, some people say Chris Bosh, or Horace Grant, from my era, would be the guy I picked. But, we'll see."
Rivers certainly liked what he saw in workouts.
"He's a confident shooter," said Rivers. "Watching him in the workouts, he kind of knows where his shots come from. It's funny, he didn't stray far away from his spots, and that tells you he's mature enough to understand who he is and how he plays. That's always a plus."
Rivers is quick to caution anyone from thinking Johnson will be a 20-point scorer his rookie season. But the team likes his potential at both ends of the court, and particularly on offense. He certainly needs to bulk up to be an effective power forward in the NBA, but the idea of him developing under the careful eye of Kevin Garnett has to be intriguing to the Celtics.
So despite who was available at No. 25, the Celtics believe Johnson has the best shot to thrive in the NBA.