With a lockout likely to kick in on Friday, July 1, the Boston Celtics have only a few more days of business activity before the NBA shuts down for what even the most optimistic of observers expects could be a lengthy break in action as owners and players work towards a new collective bargaining agreement. So what does Boston have planned before the doors lock?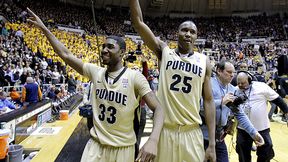 AP Photo/Michael Conroy
E'Twaun Moore and JaJuan Johnson will meet the Boston media Monday morning in Brighton.
Rookie introduction
The Celtics will introduce rookies JaJuan Johnson and E'Twaun Moore to both the media and the community Monday morning in Brighton. The Purdue products will join Celtics president of basketball operations Danny Ainge at the Edison K-8 School in Brighton to unveil a mobile computer lab and will meet the press for the first time since being hooked by Boston in Thursday's draft.
Rookie evaluation
While Ainge said the team won't hold any sort of rookie camp, they do hope to keep their rookies in Boston for a couple days in order to get them set on the right offseason path. Ainge also said the team will bring in some other undrafted players to evaluate as well, though no one can be signed before the lockout.
"We'll bring our guys in and work out with them and have our coaches work with them and there will be a couple other guys that we'll try to get in as well that went undrafted," said Ainge.
But even Celtics coach Doc Rivers admitted the team isn't sure what it's going to be able to do other than offer their new rookies a sort of offseason program to follow. And since they're not even under contract, it's not as if they have to adhere to anything yet.
"Well, we're not even sure if we can [work out picks likes Johnson]," Rivers said after the first round of the draft Thursday. "That discussion is going on right now with the whole league, because he hasn't signed. So, it's tough for him to work out. His agent's going to say no, I can tell you that right now. But if we can, we will. We may do something next week, even without him. We may bring in a bunch of the undrafted players and just -- we're bored, so we need to do something. We're going to do something. And that may be booted out, too. Right now, we're thinking about trying to do it, trying to get it together, but we don't know if we'll be allowed to."
If Rivers and Co. are bored now, just wait until the end of the week ...
Summer of uncertainty
Rivers noted last week that most of Boston's veterans had been into the practice facility in Waltham in order to get treatment because even simple things like that will cease upon a lockout. Quite literally, players will be locked out of the team's facilities and it will be up to them to work out on their own.
Celtics guard Ray Allen suggested earlier this month that he would trek down to his old stomping grounds at the University of Connecticut to get in some live basketball action and would encourage others to do the same. It will be interesting to see if Boston players organize (not-so) clandestine team workouts like the New England Patriots have done in the area while the NFL is enduring its own lockout. Heck, with only six players officially under contract, it shouldn't be that hard to accomplish.
Even the front office staff is in wait-and-see mode, as their ability to map out an offseason strategy will be dictated by the rules of the new CBA.
"Well, we're all in the same boat, every team," said Ainge. "I don't know what's going to happen, but I can't really address that. We'll just deal with whatever rules we're given."