Grab bag: Could lockout shut window?
July, 1, 2011
7/01/11
11:41
AM ET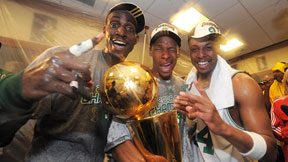 Brian Babineau/NBAE/GettyThe Big Three and their 2008 title.
Day 1 of the NBA lockout and
it's all doom and gloom
already. Both sides seem to be digging in and telling us that they are willing to sacrifice the 2011-12 season (which is a whole lot easier to declare on Day 1 of a lockout than, say, in January). But it begs the question that some are asking in the
Celtics Mailbag
:
Q: What happens if the lockout lasts the whole season? Will the contracts of Kevin Garnett and Ray Allen just roll over to the 2012-13 season? I ask that because if they are not getting paid, it wouldn't seem that it counts towards the final year of their contract. -- Matt (Boston)
A:
The short answer: Possibly. It's unlikely the owners and players will even cross that bridge until there's actually the possibility that losing the entire 2011-12 season could occur. While negotiating the next collective bargaining agreement, the two sides would likely determine then how to handle contracts for a lost season. Larry Coon, who penned the definitive
NBA salary cap FAQ
about the last CBA, checks in with a
lockout FAQ
on Friday, and delves deeper into the question of a potential lost season:
If the lockout lasts an entire year, what happens to contracts that expire following the 2011-12 season? Do they expire anyway, or does the contract extend through 2012-13?

Coon: A contract that is scheduled to expire following the 2011-12 season should expire on June 30, 2012, whether or not the season is played. This means it's possible that 2012 free agents -- like Dwight Howard -- may have already played their last game for their current teams. Nervous teams had the opportunity to make a trade by June 30 to avoid the risk of losing these players without compensation. However, no such trade was completed, which may indicate either some faith in their ability to hang on to their potential free agents, or in the league's ability to resolve the labor dispute before the season is lost. It is also possible for the two sides to mutually agree that 2011-12 "didn't happen," so all contracts will simply be pushed back by one year. Therefore this is all subject to negotiation.
The worst fear for some Celtics fans is that the lockout wipes out the season and contracts are honored, meaning the Big Three era would likely end as (then-36-year-old) Garnett and (then-37-year-old) Allen enter unrestricted free agency next summer. Now, there's always the chance that Boston could re-sign both players at discounted rates and -- yet again -- keep the window open on this Big Three era. But all indications are that this is when the overhaul will occur and the suddenly cap-gushing Celtics would toss the keys to the car to
Rajon Rondo
and build around him and an aging
Paul Pierce
(with enough cap space to likely lure another big name and maybe even form the next iteration of Boston's Big Three).
The question we pose to you is -- assuming doomsday occurs, the season is lost and Garnett, Pierce, and Allen never play a game together again -- how will you remember the past four seasons? Was the title in 2008 enough to anoint this era a success? Will you look back and wonder what could have been given missed opportunities like in the 2010 Finals? Would you be disappointed by what this team ultimately accomplished during that span? Sound off in the comments.