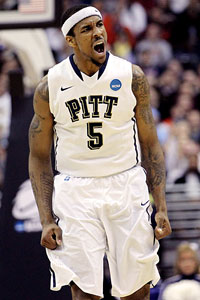 Nick Laham/Getty Images
Pittsburgh's Gilbert Brown is off to Germany, but could get an NBA post-lockout opportunity.Gilbert Brown, the undrafted shooting guard out of Pittsburgh that the Celtics worked out last week, has signed with German squad S. Oliver Wurzburg, according to his agent.
Brown admitted to the Pittsburgh Tribune Review that the move is a bit of protection in case the NBA's lockout lingers:
The 6-foot-6, 210-pound Brown said he won't leave for Europe until August, and that depends on the status of the NBA lockout.

"If the lockout ends early, I probably won't even go," he said. "It's basically an insurance policy so I'm not waiting around for the lockout to end."

Brown, who said a clause in his contract allows him to leave Germany after the lockout ends without penalty, worked out with the Boston Celtics last week.
Brown averaged 11.3 points, 4.4 rebounds, and 2.7 assists per game in his senior season with Pittsburgh. He told the Pittsburgh Post-Gazette that the Celtics indicated he was on their radar as a second-round pick (the team went with Purdue's E'Twaun Moore at No. 55).
* Forsberg's thoughts: No surprise here. Brown met with the Celtics last week and would seem likely to earn a training camp invite if he's willing to come back stateside following the lockout. Brown has good size and was a solid 3-point shooter at the college level. He's the sort of player that, if he proves himself capable in camp, could earn a Von Wafer-like role (ironically, Brown's agent, T.J. Doyle, also represents Wafer).
* Update, 2:30 p.m.: Doyle, Brown's agent, confirmed the deal, but said it's a "unique situation" that allows all parties involved to benefit. More on Brown and his time in Boston on Tuesday.