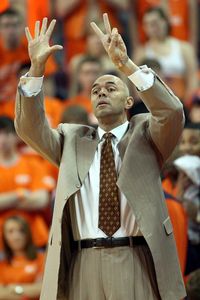 Rex Brown/Getty Images
Dave Leitao is the new coach of the Maine Red Claws.The Maine Red Claws, NBA Development League affiliate for the Boston Celtics, formally introduced Dave Leitao as the team's new head coach Thursday.
Leitao, who formerly coached collegiately at Virginia, Northeastern, DePaul, and served as an assistant at Connecticut, replaces Austin Ainge (now the director of player personnel for the Celtics). Here's the official release from the Red Claws:
The Maine Red Claws, presented by Quirk Chevrolet, today introduced Dave Leitao as the team's head coach. The announcement was made today in front of an exuberant crowd of Boys and Girls Club members and reporters at the Boys and Girls Club located on Cumberland Avenue in Portland. The announcement comes exactly two years to the day of the naming of Austin Ainge as the team's first head coach; Ainge was recently named the Director of Player Personnel for the Boston Celtics, paving the way for Leitao to take the reins as the second head coach in Red Claws' history.

"Dave Leitao has a tremendous resume of developing young talent and of getting the best out of his players," said Red Claws President and General Manager Jon Jennings. "Our players will benefit greatly from his experience and emphasis on defense and winning. "Dave as the head coach of the Maine Red Claws is a great addition for the franchise. This organization has enjoyed a great number of successes, on and off the court, and this day marks the beginning step to the next level for this franchise."

Leitao, 51, brings a wealth of college experience to Maine, with a coaching career that has spanned 25 years at top college programs. The Massachusetts native is the former head coach of the University of Virginia where he was named the 2006-07 Atlantic Coast Conference Coach of the Year by the Associated Press as well as the 2007 National Association of Basketball Coaches District 5 Coach of the Year. Previously, he was head coach at Northeastern University and DePaul University and served lengthy stints as an assistant coach at Northeastern and the University of Connecticut. As the assistant coach at UConn, Leitao served under Hall-of-Fame head coach Jim Calhoun for whom he had also played at Northeastern University.
"Dave is a special person and coach and is a part of my family and has been for 30 years," said Calhoun. "He is an outstanding hire, not only from a basketball standpoint, but also as a molder of young men. He knows what these players will need to do to get to the next level, as players and as people. I could not be more excited for him for this opportunity, and the Red Claws and the Portland community are fortunate to have him."

A two-year captain at Northeastern from 1978-1982, the 6'7" forward helped the Huskies reach the NCAA Tournament in his final two years. At Calhoun's behest, Leitao entered the coaching ranks as Northeastern's assistant coach in 1984, following Calhoun to UConn in 1986. He took the reins of his own team in 1994, returning to his alma mater as head coach from 1994-96. Leitao returned to UConn as associate head coach in 1996, remaining for six years, including the Huskies National Championship season of 1999, before being named the head coach at DePaul in 2002. He oversaw the Blue Demons' transition from Conference USA to the Big East basketball conference, leading DePaul to two trips to the NIT and one to the NCAA Tournament before joining the University of Virginia as head coach in 2005. Most recently, Leitao worked as a consultant for the Next Level Talent Management Agency, a sports and entertainment management firm in Virginia Beach, VA.

"I am a great believer in the 'defense first' philosophy and that defense wins games, "If you look at any sport at the highest level, defense is what wins championships and wins," said Leitao. "If you have good pitching and good fielding, you're going to win a lot of games in baseball. The greatest coaches in football have had great defenses. It's the same in basketball. It's what I learned, and it's what I believe in."

"I have heard incredible things about the crowds at the Portland Expo and the dedication and knowledge of Crustacean Nation," Leitao continued. "I am looking forward to experiencing that first hand. This will be an exciting season of basketball in Maine, and I can't wait to get to the arena and get started."

"I am incredibly excited about this upcoming season and the program we are building on and off the court," Jennings said. "With two seasons under our belt, we know what to expect and where we want to go. I can't wait for the season to begin."