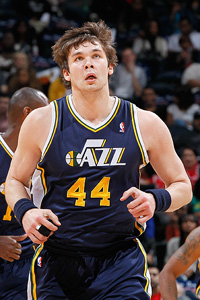 Kevin C. Cox/Getty Images
Kyrylo Fesenko brings one thing: defense at center spot.Continuing our offseason look at players that could be of interest to the Boston Celtics once a new collective bargaining agreement is achieved with a look at center Kyrylo Fesenko:
The skinny: A second-round pick (38th overall) of the Philadelphia 76ers in 2007, Fesenko was flipped to Utah for Herbert Hill in a draft-night exchange. The 7-foot-1 center, a native of the Ukraine, has appeared in just 132 games in four seasons with the Jazz. For his career, he's averaged 2.3 points and 2 rebounds over 8.3 minutes per game.
2010-11 season: Coming off a solid postseason showing the year before, Fesenko appeared in a career-high 53 games, but he averaged a mere 2 points and 2 rebounds over 8.6 minutes per game and his field goal percentage plummeted to 44 percent (54.7 the year before in similar action). Fesenko earned $1.1 million in the fourth and final year of his rookie scale deal.
Why it makes sense: The suggestion here is Fesenko as a depth center, filling the sort of role that Semih Erden boasted last season before being traded away to Cleveland. You're looking at Fesenko's stat line and thinking, "Really?" But here's what the stats don't tell you: the 24-year-old Fesenko is a stout defender. According to Synergy Sports, Fesenko allowed a mere .716 points per play last season, ranking him in the 96th percentile among all NBA players. Of all the hoopsters that had at least 100 defensive plays last season, Fesenko ranked fourth overall in points per play (Boston's Jermaine O'Neal was second at .675 points per play). Opponents shot a mere 34.2 percent against Fesenko and, while he's still susceptible to post-up situations, he excelled against the pick-and-roll and especially in spot-up situations where players must shoot over his long frame (Fesenko has a 9-foot-4 standing reach).
Why it doesn't make sense: While Utah has certainly had a logjam up front at times, it's curious Fesenko could never crack the rotation more in four seasons. Only once last season did he log more than 20 minutes in a game (27 minutes vs. the Lakers on April 1, where he chipped in 4 points, 8 rebounds, and 2 blocks). And there's no denying he's limited offensively, where he's basically the opposite of himself defensively. Fesenko can score in the post and off putbacks, but he has no game beyond 10 feet, and even beyond 3 feet is sketchy (for his career, Fesenko is 22-of-66, 33 percent, from 3-to-9 feet, according to HoopData).
Bottom line: The Celtics need more than another big name to supplement Jermaine O'Neal up front and Fesenko's defensive abilities make him a solid depth option up front.
Good in Green rundown: Joel Przybilla | Kwame Brown | Alexis Ajinca | Kurt Thomas |
Chuck Hayes | DeAndre Jordan| Al Thornton | Tracy McGrady | Jason Richardson |
Marquis Daniels | Anthony Parker | Michael Redd | Mickael Pietrus | Veteran Point Guards