The Swift rumors never end
July, 22, 2011
7/22/11
9:00
AM ET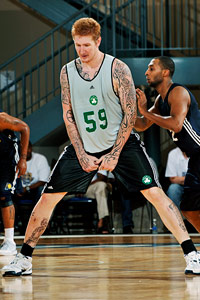 Fernando Medina/NBAE/GettyRobert Swift at work for the C's summer team in 2009.
So as the story goes, Celtics president of basketball operations Danny Ainge very much coveted prep-to-pros big man
Robert Swift
during the 2004 NBA Draft, but the 7-foot-1 center got swooped up by Seattle with the No. 12 overall pick that year and Boston ultimately drafted another high schooler in
Al Jefferson
three picks later. Swift appeared in 97 games over four injury-riddled seasons for Seattle/Oklahoma City and hasn't played an NBA game since 2009, while Jefferson emerged as a star big man and was the Celtics' key asset in landing
Kevin Garnett
via trade before the 2007-08 championship season.
Things worked out pretty well for Boston. But Ainge remained intrigued by Swift, enough so that the big man joined the Celtics' summer league team before the 2009-10 season, though no contract offer materialized. Swift soon landed with the Bakersfield Jam of the NBA Development League, but appeared in only two games before departing due to personal reasons. He spent last season with Tokyo Apache of the Basketball Japan League.
And now his old coach suggests Ainge and the Celtics might
still
be interested.
JAPAN TIMES: BJ-LEAGUE NOTEBOOK: SWIFT UPDATE
Big man Robert Swift, who played for the on-hiatus Apache in 2010-11 could wind up with the Boston Celtics after the lockout or the New York Knicks, according to former Tokyo Apache coach Bob Hill.
The obvious question is whether there is legitimate interest (the Celtics certainly have a need for big men) or a coach trying to talk up a loyal player. The Ainge-Swift jokes have seemingly been around so long, you'd think Swift was old and gray by now. But Swift is only 25 years old (and still has the red mane) and, as Doc Rivers noted before this year's draft, "There's only so many 7-footers on Earth and half of them can't play." Swift, who shared the Apache frontcourt with
Golden State Warriors
draft pick
Jeremy Tyler
this past season, averaged 13.8 points on 61.7 percent shooting (a quarter of his field goals were of the dunk variety). Depending on how Boston is able to fill out its frontcourt once the lockout is lifted, maybe it wouldn't be a tremendous surprise to see Swift land a camp invite.
PODCASTS
Ron Jaworski, NFL
Play Podcast ESPN NFL analyst Ron Jaworski discusses how Rob Gronkowski's injury could affect the Patriots' playoff success, the Eagles' offense, Peyton Manning's throwing style and more.
On NFL Week 14: 12/9
Play Podcast Mike Greenberg and Cris Carter cover Week 14 of the NFL season, including Rob Gronkowski's injury, Panthers-Saints, Peyton Manning's big day, the drama in Washington and more.
Johnny Damon, MLB
Play Podcast Two-time World Series champion Johnny Damon dishes on Jacoby Ellsbury's decision to sign with the Yankees, what moving from Boston to New York is like and more.