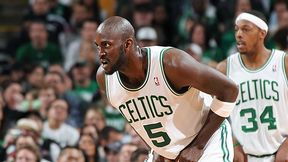 Brian Babineau/NBAE/Getty Images
Despite the mean face, KG is one of the NBA's most marketable players, according to Nielsen.Having inked recent sponsorship deals with the likes of ANTA footwear and ZICO coconut water (leaving behind more high-profile brands like Nike and Gatorade), it should come as no surprise that Kevin Garnett remains one of the most marketable faces in the NBA. In fact, a recent Nielsen poll suggests he's the fourth most marketable in the league, behind only the Mavericks' Dirk Nowitzki, Lakers' Kobe Bryant, and Suns' Steve Nash. A look at Nielsen's top 10 list:
Here's Nielsen's note on the methodology of the N-score: "Using the combined research expertise of Nielsen and E-Poll Market Research, N-Score is an in-depth look at a sports figure's overall endorsement potential, factoring in the attributes and demographic measures that align brands with endorsers. E-Poll maintains a national online panel of 250,000 people age 13 and up. Each individual N-Score National survey is administered to 1,100 people within that panel via the Internet. The sample is representative of the general population based on gender, income, age, and education."