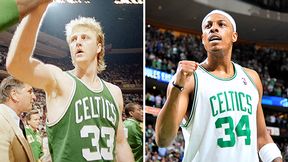 AP Photo, Getty Images
The C's are well represented at small forward.In the latest installment of ESPN.com's 5-on-5 series, small forwards are in focus and both Larry Bird and Paul Pierce are referenced in the discussion.
Brendan Jackson of True Hoop affiliate, CelticsHub, starts with Pierce during a question about the league's most currently underrated small forwards:
Some consider Paul Pierce over the hill. Celtics fans think he's better than LeBron. The truth is that he's somewhere in between. Consistently underrated throughout his career, Pierce is still performing at a high level despite being nearly 34. He's top five in PER among similar small forwards and leads that group in true shooting percentage.
Jackson also stumps for Bird in a question about the best small forward of all-time.
When you think of the best NBA small forward of all time and your mind doesn't immediately go to Larry Bird, there must be some pretty hefty extenuating circumstances. Bird dominated the game in so many different areas: he scored, he rebounded, he defended, and most importantly he won: three NBA championships and three MVP awards by the age of 29.
Meanwhile, ESPN the Magazine's Chris Palmer puts together a look at the current top 5 small forwards in the league and ranks Pierce at No. 4.
"The Truth" is one of the most respected and cagiest veterans in the league. For all Pierce's skill, his biggest contributions could be in the intangibles department, specifically his devotion to team chemistry. He's one of the best leaders to wear Celtics green and, despite his All-Star pedigree, he excels in the dirty-work phases of the game like taking charges and setting picks. Pierce plays through injuries, coaches on the floor and encourages teammates to self-police in the locker room.

Oh, yeah: He can shoot, too. Pierce has consistently been a threat from behind the arc for years, but he loves to take full advantage of the decidedly unglamorous 6-to-10 foot jump shots that so many players simply don't have in their game. Paul has never dominated with raw athletic ability but has been effective by outsmarting defenders with quick cuts to the rim and disorienting up-and-unders. Around the basket he frees himself up with convincing pump fakes and expertly leans in to give the illusion that he's falling off-balance to get the call. His savvy in the lane is one reason Pierce has managed to stay relevant for so many years.
* Forsberg's thoughts: Nice to see both Bird and Pierce in the spotlight in today's 5-on-5 (even if someone suggested Scottie Pippen was a better overall player than Bird). As for Pierce, we'll hop on that "undervalued" band wagon. After taking a bit of a hometown discount last offseason while inking a four-year extension (this after opting out of the final year of his contract), Pierce put together another brilliant campaign, ranking in the 95th percentile (1.091 points per play) on offense and the 76th percentile (0.835 points per play) om defense. Considering the overall strength of that position league-wide, it's just further proof of how good Pierce is and how much we take his production for granted at times.
And on the 18th anniversary of his death, let us not forget another great Celtics small forward in Reggie Lewis.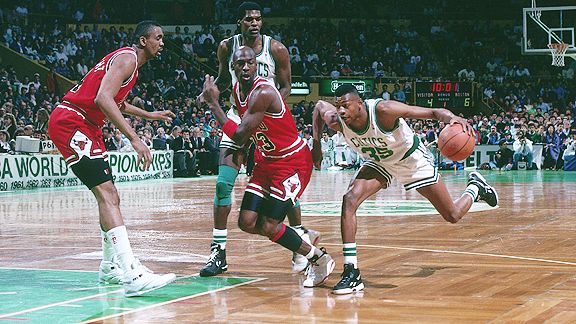 Dick Raphael/NBAE/Getty Images
Reggie Lewis drives on Michael Jordan in 1991.