Catching up on Celtics-related odds and ends from Thursday: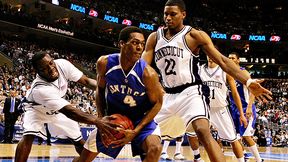 Jim McIsaac/Getty Images
Dust off that No. 4 jersey for Rajon Rondo.* ESPN.com's 5-on-5 series examined power forwards Thursday with Boston's Kevin Garnett (and Kevin McHale) getting a little love from True Hoop's Henry Abbott when the conversation shifted to the best 4's of all-time:
Tim Duncan. But I feel a tiny bit dirty. If Kevin Garnett had played alongside David Robinson and under Gregg Popovich and owner Peter Holt, maybe Garnett would be the one with the better jewelry collection. As for the legends in this conversation (Kevin McHale, Bob Pettit, Charles Barkley, Dave DeBusschere, Karl Malone, Elvin Hayes), to my eyes, Duncan and Garnett are just longer, stronger, faster and better.
* Jeff Green is using his spare time to do some good during the lockout. The White House blog notes Green's appearance as a group of Wounded Warriors played hoops on the South Lawn earlier this week. Green is also slated to join Kobe Bryant as part of a Celebrity Soccer Challenge hosted by Mia Hamm and Nomar Garciaparra this weekend in D.C.
* Kentucky coach John Calipari recently announced (via Twitter) that eight Kentucky pros, including Rajon Rondo, would participate in an August exhibition game against the Dominican Republic national team. Maybe Rondo can use the event to lobby teammate (and unrestricted free agent) Tayshuan Prince to consider coming to Boston at a discount rate. Aside from an egregious use of "Kaboom!", Calipari also shared the news that players like Rondo plan to use an extended lockout to dive back into college studies:
(h/t: Green at White House: WEEI; Kentucky: Red's Army)