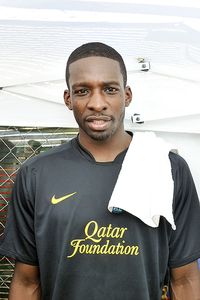 Kris Connor/Getty Images
Jeff Green at Sunday's Celebrity Soccer Challenge in D.C.Spending his summer back home near the nation's capital, Jeff Green dropped by Mia Hamm and Nomar Garciaparra's Celebrity Soccer Challenge at Kastles Stadium at the Wharf on Sunday. While Kobe Bryant stole most of the NBA spotlight at the event, the Washington Examiner caught up with Green about a summer of uncertainty being a restricted free agent during the lockout:
Meanwhile, the speculation around Green remains centered on his lockout-stalled free agency. The Hyattsville native and Georgetown alum has been to the playoffs with both Oklahoma City and Boston, but when he comes home, the question is the same: How he would like to play for the Wizards?

"I get that quite a bit," Green said. "But I just laugh it off. There's really nothing I can do about that situation. When the time comes, we'll see where I land, if it's here, Boston or anywhere else, I'll be happy."

Soccer was the perfect diversion for Green, who was headed to a Kenner League game as soon as he finished.

"I'm just doing my offseason like it was a regular offseason," he said. "It's still July. A lot of things can happen in the next two months. You never know what's going to happen [with the lockout]. Hopefully something does get settled, and I'll be ready."
Green, acquired at February's trading deadline in the much ballyhooed Kendrick Perkins trade, was tendered a $5.9 million qualifying offer before the lockout, making him a restricted free agent. The Celtics should have the right of first refusal to bring him back next season. Having made $14.3 million over four NBA seasons, Green can bide his time back home during the lockout and only explore overseas options if it becomes intriguing to him.