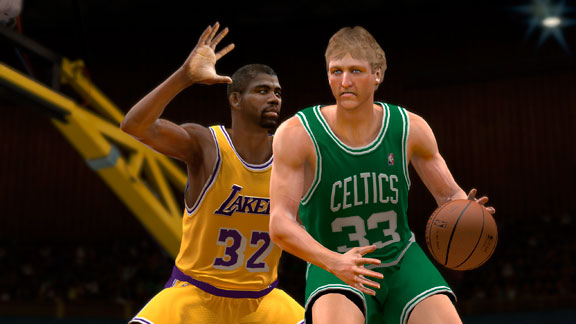 Courtesy 2KSports
It's time for Magic and Bird to have one last showdown in "NBA 2K12."Our occasional glance at Celtics-related headlines around the web:
* If there's no hoops in November, at least NBA 2k12 plans to let us revisit some glory days by utilizing cover-boy Larry Bird in legends mode. You can even take Bird and the old Big Three and pit them against LeBron and the Miami Thrice. From ESPN's The Gamer blog:
In the feature, gamers will play through some of the most memorable moments of 15 legends and their teams, including Michael Jordan, Magic Johnson, Larry Bird, Dr. J, and Kareem Abdul Jabbar. As you play through the mode, you will then be able to unlock these teams and legends in order to match them up against current greats like Kobe's Lakers and Dirk's Mavs.

"One of the things we're really proud of as a franchise is that we've transcended video games and have become part of the talk about basketball and the NBA," says Jason Argent, 2K's vice president of marketing. "So we're going to leverage that with 'NBA 2K12' as every person who loves to debate sports, every person in every barber shop and bar and everywhere else always wonders: What would happen if today's Lakers played one of the Jordan teams?
* Grantland's Jonathan Abrams compares the 1998-99 NBA lockout to that of the current work stoppage and put him in the category of people that think a shortened (or cancelled) season could be disastrous for Boston.
The 2011-12 Boston Celtics could be devastated by a prolonged lockout. It's perfectly reasonable for someone to make the argument that Boston can rebound after last season when they were unsettled by the Kendrick Perkins trade and Shaquille O'Neal's will-he-or-won't-he-play drama. It's harder to see Boston's veteran legs outlasting teams in a shortened season in which games would be played on a tighter schedule. Additionally, if a whole season is missed and the contracts of 2011-12 never come into play, Ray Allen and Kevin Garnett will become free agents and Boston will likely be denied ever having a last run with the core of the 2007-08 championship team. Only Rajon Rondo, Paul Pierce, and Avery Bradley are currently under contract for the 2012-13 season.
* The Pistons officially introduced Lawrence Frank as their new head coach Wednesday and he's bringing a Boston-like philosophy to Detroit. Frank on his coaching philosophy from the Detroit Free Press: "We're going to be a defense-first team, a rebounding team, an attacking team, a low-turnover, high-assist team. … You have to compete at both ends, but we'll be defense-first. … It's a collective effort, mind-set and trust through good and bad."
* ESPN Insider examines Dwight Howard as part of its ongoing 2012 free agent profiles. Kevin Pelton pegs the Celtics as one of a few potential best fits for Howard: "By contrast, the Boston Celtics, Los Angeles Lakers or New Jersey Nets could build around Howard's skills. While they would need to add spot-up shooters like the Magic boast to keep defenses honest, those teams all could offer a creator on the perimeter to either work the pick-and-roll with Howard or take over games down the stretch when Howard's poor free throw shooting is an issue."
* While the NBA might be in lockout mode, the NBA Development League plans to play its season. With that in mind, the Maine Red Claws will host an open tryout at UMass-Boston on Sept. 10. "This is an opportunity for players to showcase their talents and perhaps earn an invite to a professional training camp," said Red Claws first-year head coach Dave Leitao. "I am very familiar with the level of talent in and around Massachusetts, and I am hopeful we can find some players who can battle their way onto the opening day roster." More info and a registration form can be found HERE.
* It's not Kevin Durant dropping 66 in Rucker Park, but this glance at JaJuan Johnson at the Indy Pro-Am ought to get Celtics fans excited: