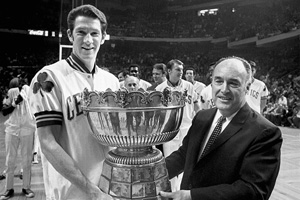 NBA Photo Library/NBAE/Getty
John Havlicek and a title trophy.This summer we're inducting an inaugural class of five athletes into the ESPN Boston Hall of Fame. While you can certainly make the case that as many as four Celtics could be on your ballot, we decided to make things easier and simply dream up a Celtics wing. Remember: Only non-active players are eligible for entry, so Paul Pierce isn't eligible yet (though it is fun to try and figure out where he fits in the mix).
My top 5 Celtics: Bill Russell, Red Auerbach, Larry Bird, Bob Cousy, and John Havlicek.
Hop HERE to read more on the top Celtics candidates.
And leave your thoughts on which five you'd choose. It's not easy given all of the Celtics' success.