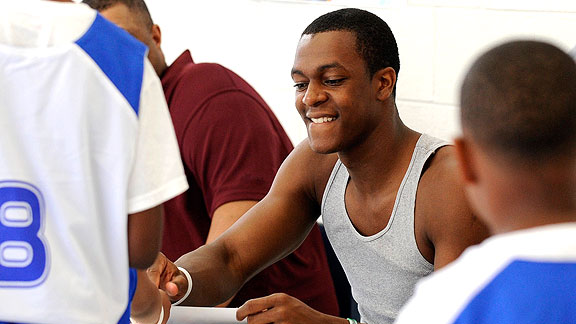 AP Photo/Pat Sullivan
Rajon Rondo signs autographs in Texas on Friday.Celtics point guard Rajon Rondo appeared at old friend Kendrick Perkins' celebrity basketball event Friday in Beaumont, Texas (the game actually got cancelled in part to Perkins being dehydrated, more HERE) and suggested he'll wait until Oct. 1 before entertaining the notion of playing overseas:
Training camps are due to open in the first week of October, and Rondo and [Stephen] Jackson have set an Oct. 1 deadline for deciding if they'll play in Europe or elsewhere or wait out the labor impasse that threatens to wipe out games and possibly the entire 2011-12 season. [Kevin] Durant said last month that he was "about 50-50" on going overseas, but he and Harden declined interview requests Friday...

Rondo, a two-time All-Star, says he'll discuss options with his agent as the start of training camp draws closer. "It just depends," Rondo said. "My agent and I will sit down and we'll talk about it and discuss what's best for me."
* Forsberg's thoughts: Rondo said earlier this month that he's interested in finishing his degree at the University of Kentucky and has hinted he's in no rush to hop overseas (though he'll consider it, Rondo has made nearly $15 million in NBA contracts for his career and earns more through endorsements from the likes of Nike and Red Bull). Rondo also noted during his Boston appearance that he's approaching this offseason like any other and it'll only be when training camp and the preseason start getting wiped out than most players will start to ponder future options.
* Bonus Rondo links: Check out Rondo and his Nike kicks on the cover of SLAM ... And Rondo is a part of The Foot Locker Advantage Academy (sharp-dressed Mr. Rondo teaches quickness, with lessons that include mean muggin' and ruthlessness).