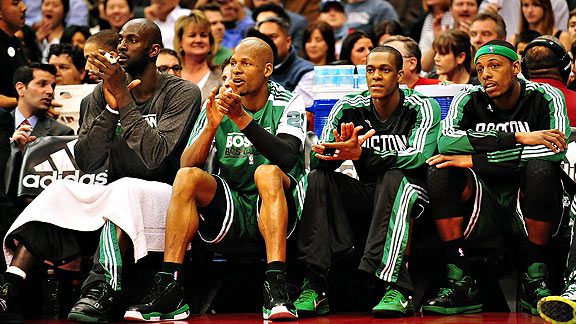 Gary A. Vasquez/US Presswire
Kevin Garnett, Ray Allen, Rajon Rondo and Paul Pierce earned an East semifinal exit from the Heat.Four of my good buddies from CelticsHub.com joined me to dissect five of the top questions surrounding the Celtics' offseason. Here's a sampling from question No. 1:
5-on-5: CELTICS OFFSEASON QUESTIONS
FACT OR FICTION: Rajon Rondo's up-and-down play is a concern.

Hayes Davenport, Celtics Hub: Fact. Yes, Rondo was an MVP candidate this past November, but his assist rate dipped in the second half and his defense has actually been in decline since 2009. Fans are also beginning to give up on his ever developing a jump shot. Rondo's floor vision is still excellent, but it's unclear how close he might be to his ceiling.

Ryan DeGama, Celtics Hub: Fact. One of the perils of NBA team building is misidentifying a star player as a franchise player and building your team around someone who can't carry you to a title. That description might fit Rondo, who remains valuable and cost-effective but who might never be better than a No. 3 guy on a championship team.

Chris Forsberg, ESPN Boston: Fiction, but only if President Barack Obama says so. Are there troubling portions of Rondo's 2010-11 season? Of course (attempts at rim down more than a shot per game, career-low free throw percentage). But he's still the straw that stirs the Big Three drink.

Brendan Jackson, Celtics Hub: Fact. Rondo represents the future of the Boston Celtics. That "future" could be with the team or as part of a trade, and playing inconsistently does not help the Celtics in either scenario. That being said, I don't believe Rondo's inconsistent play last season will be indicative of his future performance.

Brian Robb, Celtics Hub: Fact. Rondo may not be the best player on the C's, but the team is reliant on his energy and offense, especially against elite defenses. The major knock on the point guard throughout his career has been consistency, and he has not done enough to quiet those concerns despite back-to-back All-Star seasons.