Player projections for 2011-2012 Celtics
November, 29, 2011
11/29/11
11:53
AM ET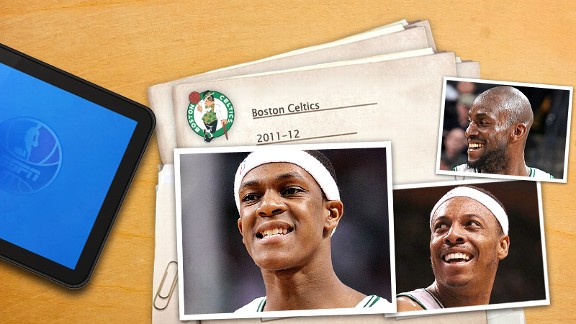 In this
Insider feature
, ESPN NBA Insider John Hollinger gives his player-by-player scouting reports and 2011-12 projections for the Boston Celtics. Here's a quick snapshot, with projections for Rajon Rondo and Jeff Green, two of the more interesting ones.
RAJON RONDO, PG
Projection: 12.5 pts, 5.0 reb, 11.4 ast per 40 min; 17.79 PER | Player card
• Long-armed, creative point guard who penetrates at will and sees floor.
• Erratic outside shooter but good short-range finisher. Terrible foul shooter..
• Disruptive defender. Will over-gamble at times. Great rebounder for size.
---
Rondo is a classic pass-first, ball-hawking point guard -- he was fourth in the league in pure point rating, second in assist ratio and fourth in steals per minute. All that made him an All-Star caliber performer even though he averaged just 11. 4 points per 40 minutes with a sub-50 TS%; if he could shoot at all, he'd be dominant.
Rondo's numbers for the year were down from the previous season, but all the damage was done after the All-Star break, when he went into something of a funk. Rondo shot just 43.2 percent after the break, made only one 3-pointer in the final 25 games and lost nearly three assists off his per-game average. Again, the jumper was his nemesis: On the season, Rondo made only 38.9 percent of his 2s outside the basket area and slumped to 56.8 percent from the stripe.
In addition to the steals, Rondo's defensive value was obvious in other ways. He had the third-best Synergy rating among point guards, opposing point guards had only a 13.3 PER against him, and he helped on the glass by posting the fourth-best rebound rate among point guards. Additionally, he did all this while hardly ever fouling, averaging less than two per 40 minutes.
JEFF GREEN, F (FREE AGENT -- RESTRICTED)
Projection: 15.2 pts, 7.5 reb, 1.6 ast per 40 min; 13.02 PER
• Combo forward who can handle ball and post up against smaller players.
• Subpar outside shooter. Good finisher in transition. Not a great athlete.
• Was destroyed by post-up 4s. Solid wing defender against 3s.
---
All the good news coming out of Oklahoma City seemed to mask the fact that Green was rapidly turning into a disappointment. His production leveled off after his second season and he was one of the league's worst defenders at the power forward spot, as bigger players tore him apart on post-ups. Moreover, his pick-and-pop game wasn't a threat because he shot under 30 percent on 3s each of the past two seasons, and he also was one of the worst rebounders at his position.
The idea behind the trade to Boston is to recast Green as a wing defender who can post-up smaller 3s and make 15-footers. His shot chart changed dramatically with the Celtics, with more tries at the rim and mid-range jumpers and a dearth of 3-pointers. Overall, however, his efficiency hardly changed.
What changed were his defensive results. According to 82games.com, opposing small forwards mustered only a 7.9 PER against Green with Boston and a 12.2 PER against him with Oklahoma City; the problem was that opposing power forwards shredded him for a 21.6 mark. Similarly, Green's Synergy stats with Boston were strong, whereas with the Thunder they were awful. All of which points to the fact that Green is much better at guarding 3s than 4s. He won't be a great player at either position, but he can defend the wing well enough to be a solid rotation player even if his offensive output continues to be relatively pedestrian, and that explains Boston's logic in acquiring him.
2014-15 ATLANTIC STANDINGS
UPCOMING GAMES
| | W-L | PF | PA | HM | AW | STK | L10 |
| --- | --- | --- | --- | --- | --- | --- | --- |
| CHA | 23-32 | 94.3 | 96.8 | 13-16 | 10-16 | W1 | 4-6 |
| BOS | 22-33 | 101.5 | 102.7 | 13-15 | 9-18 | W2 | 6-4 |
| | W-L | PF | PA | HM | AW | STK | L10 |
| --- | --- | --- | --- | --- | --- | --- | --- |
| GSW | 44-11 | 110.2 | 100.0 | 24-2 | 20-9 | L1 | 7-3 |
| BOS | 22-33 | 101.5 | 102.7 | 13-15 | 9-18 | W2 | 6-4 |
| | W-L | PF | PA | HM | AW | STK | L10 |
| --- | --- | --- | --- | --- | --- | --- | --- |
| BOS | 22-33 | 101.5 | 102.7 | 13-15 | 9-18 | W2 | 6-4 |
| CLE | 37-22 | 102.7 | 98.7 | 22-9 | 15-13 | W4 | 8-2 |
FEBRUARY 2015
MARCH 2015
APRIL 2015
Sun
Mon
Tue
Wed
Thu
Fri
Sat

1

GS
6:00 PM ET

2

3

@CLE
7:00 PM ET

4

UTAH
7:30 PM ET

5

6

@NO
8:00 PM ET

7

8

@ORL
6:00 PM ET

9

@MIA
7:30 PM ET

10

11

MEM
7:30 PM ET

12

13

ORL
7:30 PM ET

14

@IND
7:00 PM ET

15

16

PHI
7:30 PM ET

17

18

@OKC
8:00 PM ET

19

20

@SA
8:30 PM ET

21

22

DET
6:00 PM ET

23

@BKN
7:30 PM ET

24

25

MIA
7:30 PM ET

26

27

@NY
7:30 PM ET

28

29

LAC
6:00 PM ET

30

@CHA
7:00 PM ET

31

Sun
Mon
Tue
Wed
Thu
Fri
Sat

1

IND
7:30 PM ET

2

3

MIL
7:30 PM ET

4

@TOR
7:30 PM ET

5

6

7

8

@DET
7:30 PM ET

9

10

@CLE
7:30 PM ET

11

12

CLE
3:00 PM ET

13

14

TOR
7:30 PM ET

15

@MIL
8:00 PM ET

16

17

18

19

20

21

22

23

24

25

26

27

28

29

30