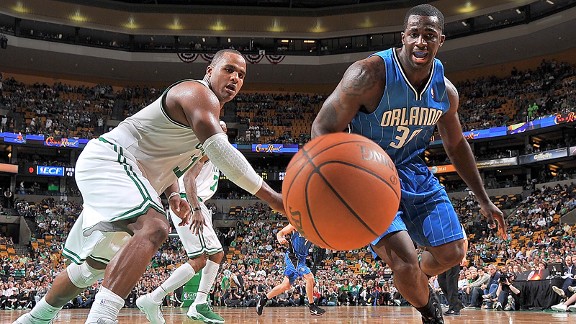 Steve Babineau/NBAE/Getty Images
Hey, Brandon and Baby, go ahead and switch uniforms.Rapid reaction as the Boston Celtics make roster moves in advance of the start of training camp on Friday:
One of the biggest questions facing Boston this offseason was whether it wanted to commit to Glen Davis long term. Cap-strapped, the Celtics needed to utilize their rights to either bring him back as a potential building block for the future, or flip him for big man help. They chose the latter, an indication they had grown tired of the mercurial Davis, who was part of the 2007 title team and grew into a key frontcourt reserve, even logging starter minutes last year. But he came with constant headaches and often bickered with coach Doc Rivers about his role. Instead of watching him walk away in unrestricted free agency, the Celtics essentially traded him for a lower-cost version (at least given the raise Davis received as part of this deal). Bass, who had a stellar Christmas Day game against Boston last season, offers similar mid-range game without as much shot-selection criticism. His defense is a step below the charge-taking Davis, but his rebounding should be a slight upgrade and Bass makes up for his defensive deficiencies with tireless effort. Celtics president of basketball operations Danny Ainge did a real nice job here ensuring the Celtics maintained a solid frontcourt reserve at the right price and without having to sacrifice future financial flexibility (Bass will earn $4 million this season and has a player option for the same amount next season). That makes this a potential contract year for Bass, who stands to get a Baby-like payday if he overachieves this season in Baby's former role. [Hop HERE for deal details].
Joining his sixth team in 12 seasons, Dooling is still rather young (31 years old) and has proven to be a capable backup (even if he never lived up to his draft potential in being snagged by the Magic with the 10th overall pick in 2000, one spot ahead of Boston's Jerome Moiso). Dooling averaged 7.1 points and 3 assists over 22 minutes per game with the Bucks last season. With Boston unsure it could bring back Delonte West and uncertain where Avery Bradley is in his development after an injury-plagued rookie campaign, Dooling is a nice luxury. Better yet, he cost virtually nothing as the Celtics used Marquis Daniels' trade exception -- acquired in last year's deadline deal that sent Daniels to Sacramento -- in order to bring on his $2.3 million salary. Keep an eye on Dooling's defense, it's not glitzy, but it's an upgrade from the likes of Carlos Arroyo off the bench last season. [Hop HERE for deal details].
Celtics sign free agent swingman Marquis Daniels
A tremendous story if Daniels proves himself to be truly healthy and can perform at the level he was at before a scary spine injury in February. Health has always been the story with Daniels, but he was as durable as ever before the freak season-ending incident against the Magic. Daniels can provide solid defense with his length and provides not only knowledge of the system, but an ability to fill in at the three spots on the floor. Offensively, he remains one of the best cutters in the league when he applies himself. If the Celtics bring back Jeff Green, Daniels provides solid depth at the three, something Boston desperately lacked last season. [Hop HERE for deal details].